A child's first bike should be special.
It should be more than just any bike. But most importantly, it should take a child past those first few days of biking, and as far as it can.
Wishbone Design Studio has created the Wishbone bike, an innovative 3 in 1 bike that takes a child from the age of twelve months, to six years. It starts as a large and sturdy trike, and then converts to a balance bike. From there, the body can be flipped to create a taller balance bike to train your preschooler on two wheels.
"The first Wishbone Bike was born out of wanting to give the kids a taste of the childhood we had. You see, when we were little, the grass was long, the air was fresh and the folks weren't always watching.

We ran where we liked, rode until dark and collapsed smiling at the end of a crazy day."
Think that's as cool as it gets? Think again!

The recycled edition takes things to a new level. First, it's made out of recycled carpets. Yup, you heard right! They make your child's bike out of carpets. The height adjustment is streamlined using the "RotafixTM " system. That means a simple twist gets your height from 25cm to 50cm high in just 15 seconds!
Assembly wasn't just simple. It was fun too. Disassembled it can fit into a typical "green" reusable shopping bag. Assembled, it's a solid, sturdy trike and balance bike, with "real" tire wheels.
The Wishbone Bike Recycled Edition doesn't stop there. If you want to "spice it up" a bit, there are so many adorable add-ons for you to do so.
Features of the Wishbone Bike Recycled Edition: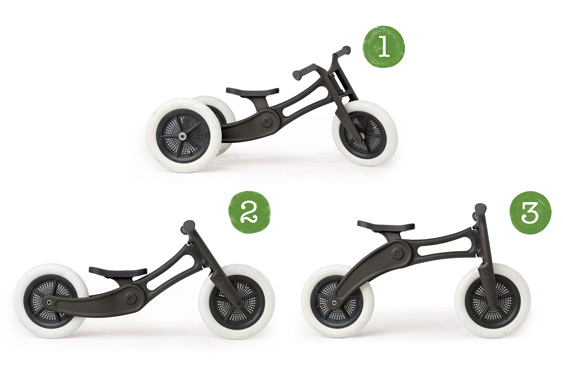 3 modes: trike, little balance bike, and big balance bike.
Appropriate for ages 12 months to 6 years (approximately).
RotafixTM takes seat from 25cm to 50cm high.
The frame is made from 100% post-consumer recycled carpet. Glass fiber is added for strength.
Helps children learn how to walk, ride, and balance.
Comes with three white 12 inch wheels.
Comes with black handle grips.
Frame stickers, colored seat covers and grips are available separately.
M is in love with this trike – a perfect solution for tall boys like him! He is eighteen months old, and not walking yet, and this is a perfect solution to help him learn. I can relax knowing that once he does learn to walk, he'll still get plenty of use from it, learning how to ride.
Connect with Wishbone Design:
Disclaimer:
This product was received from the Company for review purposes only. All thoughts and words in this post is my own and I was not paid to endorse it. I am only voicing my opinion about this product.