The Ninja Ultima Blender
This year I have set a very important goal for myself and my husband. We are going to start eating healthier and getting more exercise. We used to eat a lot of processed foods for many reasons. The first reason being that it is just more convenient. We both work different schedules and I hate cooking just for myself. My husband eats a lot of fast food or meals on the run due to his busy work schedule and running the farm.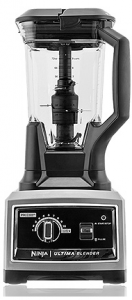 I was extremely excited when I found out that I would have the opportunity to work with Ninja and review one of their amazing products! We were sent the Ninja Ultima Blender BL830 to review free of charge. The blender is amazing! The first thing I did was check out everything that was included. The pitcher is 72 ounces which is the perfect size for the two of us. It also came with 3 Single Serve Cups with Sip and Seal lids perfect for on the go.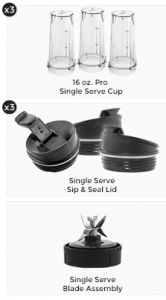 The first thing that I made with the Ninja Ultima Blender was smoothies for breakfast. We both usually rely on coffee to start our morning, so we were both excited to try something new and healthy. I used our favorite fruits, orange juice and ice. Put all the ingredients in together, turned it on and the powerful 2.5 Peak Horsepower motor did the work in a matter of seconds. I couldn't believe how fast it crushed the ice and blended everything together.
The Ninja Ultima Blender is the only blender that has dual stage blending. The blender has Total Crushing and High Speed Cyclonic Blades. The Pro Variable Speed gives you a wide range of speeds to create anything from sauces to whole juices!
If you would like more information or if you would like to purchase the Ninja Ultima Blender BL830, please visit the Ninja Kitchen Website. Be sure to stay up to date on all of the latest news and products from Ninja Kitchen by following their social media pages on Facebook, Pinterest and Twitter. You can also sign up for newsletter by signing up here. While you are there, be sure to follow Mom Blog Society on Facebook.
Disclaimer: Mom Blog Society received product free of charge to write our review. All opinions stated in our review are our own truthfully opinion and were not influenced by the sponsor or from getting the review product free of charge. We were in no way compensated for our review or opinion.