Most of us can come to an agreement, that time passes rather quickly. Especially when you are enjoying the moment with friends or family. At one stage in your life you may become a parent to a child that will change your entire outlook on life. You no longer live for yourself, but for the new bundle of joy that just entered in to your life. William VanDerKloot, the Filmmaker for The Big Adventure Series understood this when taking notice to how children's entertainment was being created. VanDerKloot took the perspective he got from watching his children grow, and incorporated it in to something he would be proud to introduce them to as they grew older. I can understand where he is coming from when it comes to what our children view. VanDerKloot takes the time and energy to provide children with an experience they won't find anywhere else.
The Big Freeze takes a different perspective on entertaining your children by teaching them through catchy rhythms that stick. The whole family can sit down, and spend some time with each other laughing as they learn about living in colder climates. Truly giving you and your children a better understanding of the way colder climates work. Exactly what you should be expecting when the cold months arrive. It is important to spend time with your children at a young age. These are the moments they will look back on in life. To recapture the experiences they have had, and later to re-introduce those experiences with their own children. You will be thrilled by the reaction you get when you sit down with your children and watch any of the great DVD's. Just to think that The Big Adventure Series all started one day over a plane taking off at the Atlanta Airport. The children that were along the ride with VanDerKloot began to overwhelm him with questions about the plane, and what exactly it was doing in the sky. Every video in the series was designed with this exact thought in mind. The extraordinary perception that a child has on the world around them. To help better understand the way things work. And now, the series has become even more extraordinary with the release of the The Big Freeze!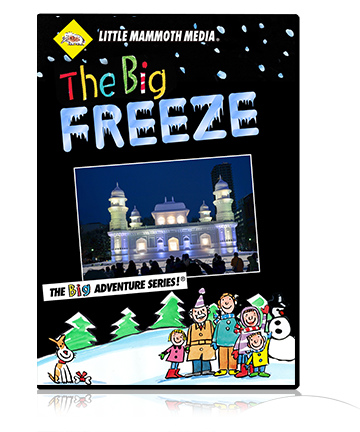 The Big Freeze is available either by hard copy or by download.
The new addition, The Big Freeze brings the cold to you home and family and is available as a hard copy or by download. Children can gain a better understanding of how the climate affects the world around them. The Big Freeze is a perfect way to get your children prepared, and more involved with the coming winter. Introducing your children to the elements that are to come, even teaching great ways to overcome them. Most of us know that winter can be a struggle, especially if you are ill-prepared for it. For those of you that don't have the privilege of enjoying winter. The Big Freeze can be a quick, and easy way to teach your kids what winter is all about. A wide variety of incidences that could partake if they were to see snow, and the decisions they can make if need be. The Big Freeze sets a standard for learning and how your children can adapt to the colder weather they might not be used to. Living in the mid-west, my children and I are used to heavy snow, and a colder temperature. Some years we get blizzards that keep us stranded for days. Understanding how to prepare is extremely important.
The Big Freeze does a fantastic job highlighting distinct points of winter, and teaching you simple winter solutions that even you yourself may not yet know. While still teaching you a few twist you may not have expected. The Big Freeze will give your children a simple understanding of the good, and bad characteristics of cold. In The Big Freeze your family will travel all around the world to get a better understanding of the colder climate without ever having to step outside.
Towards the end of The Big Freeze your family will be well equipped educationally to handle any winter weather. You can't lose by creating enjoyable memories, and learning at the same time, with the people that matter the most in your life. All over, it seems like families are becoming disconnected from each other. Maybe your family needs a more solid foundation when it comes to actually spending time together. The Big Freeze, and any of the other Adventures from Little Mammoth can be exactly what brings your family together for a fun filled and educational evening. Find a way to get everyone together, to enjoy, learn, and even teach each other. The Big Freeze is the ADVENTURE you and your family have been waiting for!
Little Mammoth has been generous enough to offer one lucky Mom Blog Society reader a chance to win some fabulous prizes. For your chance to win, simply enter the Rafflecopter by clicking here.
Connect with Little Mammoth Media:
Webpage | Facebook | Twitter | Pinterest | Youtube