No one ever said breaking up was easy. In fact, it can be downright tough. If you're going through a break-up right now, you may be feeling a range of emotions – from sadness and loneliness to anger and betrayal. It's important to give yourself time to grieve the loss of your relationship, but eventually, you'll need to start picking up the pieces and moving on. Here are ten essential steps to take after a break-up.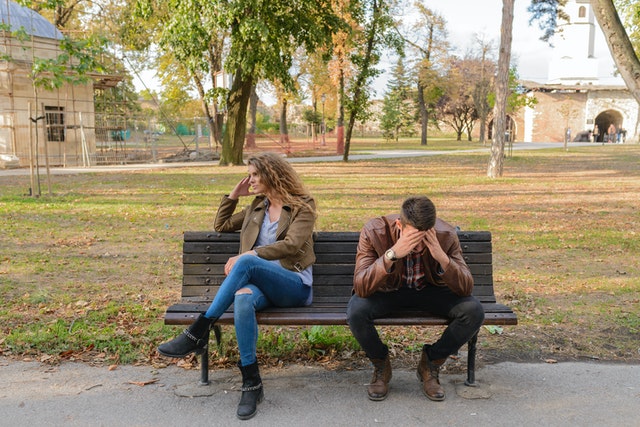 1) Cut off all communication with your ex.
This includes text messages, phone calls, emails, and social media. It may be tempting to keep tabs on your ex's activities or to try and stay friends, but it's important to respect their decision and give them (and yourself) space.
Cutting off communication may be difficult at first, but it's essential to do it for your own sake. Seeing or speaking to your ex will only make the healing process that much harder.
If you have mutual friends, you may need to take a break from them as well – at least for a little while. It can be tough seeing reminders of your ex everywhere you turn, so it may be best to distance yourself until you're ready to face them again.
2) Delete (or at least hide) all traces of your ex from your life.
This includes photos, gifts, souvenirs – anything that reminds you of them. It may seem harsh, but it's necessary in order to move on. Keeping reminders of your ex around will only make it harder for you to forget about them and start fresh. If you can't bear to part with certain items, try storing them away in a box or drawer until you're ready to deal with them.
Hiding or deleting traces of your ex may also mean unfollowing them on social media or untagging yourself from old photos. Do whatever you need to do to make sure they're not a constant presence in your life.
3) Allow yourself to grieve.
It's important to give yourself time to mourn the loss of your relationship. This doesn't mean wallowing in your sadness or dwelling on what could have been, but it does mean giving yourself permission to feel sad, hurt, or angry. Don't try to bottle up your emotions – allow yourself to experience them fully and then let them go.
One way to do this is by writing about your break-up. Write down everything you're feeling – the good, the bad, and the ugly. Once you've got it all out, throw away the paper (or delete the document) and move on.
Another way to process your emotions is through art or music. Create something that reflects how you're feeling – whether it's a painting, a song, or a poem. Sometimes the best way to heal is by expressing yourself creatively.
There's no right or wrong way to grieve, so do whatever feels best for you. Just make sure you're giving yourself time to process your emotions before moving on.
5) Focus on taking care of yourself.
After a break-up, it's easy to neglect your own needs and focus solely on the pain you're feeling. But it's important to remember that you are worth taking care of – even if you don't feel like it right now.
Make sure you eat healthy meals, get enough sleep, and exercise regularly. These things will help boost your mood and give you the energy you need to get through this tough time.
It's also essential to find activities that make you happy and make you feel good about yourself. Whether it's reading, joining free chat lines, going for walks, or spending time with friends, do what makes YOU happy. This is a time for self-care and self-love, so don't forget to focus on taking care of yourself.
6) Reach out for support.
If you're struggling to cope with your break-up, don't be afraid to reach out for help. Talk to a trusted friend or family member about what you're going through. If you need professional help, there's nothing wrong with seeking out therapy or counselling.
Remember that you don't have to go through this alone – some people care about you and want to help. So don't be afraid to reach out for support when you need it.
7) Give yourself time.
Healing from a break-up takes time, so be patient with yourself. It's normal to feel sad, hurt, or angry for weeks (or even months) after the end of a relationship. But eventually, those feelings will start to fade, and you'll be able to move on with your life.
8) Don't rush into a new relationship.
It's tempting to try to find a new partner right after a break-up, but it's important to give yourself time to heal first. If you jump into a new relationship before you're ready, you may get hurt or hurt someone else.
So take your time and focus on taking care of yourself before you start looking for someone new. Then, when you're finally ready to date again, make sure you're doing it for the right reasons.
9) Learn from your mistakes.
A break-up can be a difficult and painful experience, but it can also be a learning opportunity. Take some time to reflect on what went wrong in your last relationship and what you could have done differently.
Think about what you want in a partner and what kind of relationship you want to be in. If you take the time to learn from your mistakes, you'll be more likely to find happiness in your next relationship.
10) Don't forget to love yourself.
After a break-up, it's easy to focus on everything wrong with you, but don't forget to love yourself. Remember that you are worthy of love and happiness, no matter what.
By following these steps, you'll be on your way to moving on from your break-up and starting a new chapter in your life. Allow yourself time to grieve and heal, but don't dwell on the past – focus on taking care of yourself and looking towards the future. With time, you'll be ready to move on and start anew.