We all know that teachers are overworked and often underappreciated! Teachers are the undercover super heroes that we all have come to depend on and they give their all to their profession
When I was asked to review products from Teacher Peach, a one-stop online shop for teacher classroom products and gifts, I was thrilled. Finally, a company that's making the products teachers need either to purchase for themselves, or for families to buy as gifts. They support teachers and their students with an entire line of creative and effective classroom products that reflect today's social and emotional priorities, building its products based on teacher input.
I was thrilled to receive both the new subscription box, A Note From The Teacher and Executive Functioning System from Teacher Peach.
Giving a new meaning to "a note from the teacher," Teacher Peach, a one-stop-shop that supports teachers with effective and creative classroom products, is thrilled to launch its new A Note From the Teacher! monthly subscription box. Each month's box is filled with thoughtful note writing items so teachers can send notes that matter—with messages that resonate! Each month's delivery includes greeting cards, postcards, and supplies so teachers can write meaningful notes to students, families, peers, and friends. The first box even comes with a FREE Card Organizer Starter Kit.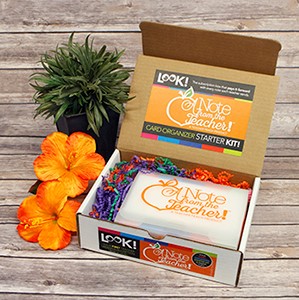 Each month, A Note From the Teacher subscribers will receive four unique greeting cards plus one seasonal bonus card, each with an envelope individually wrapped for safekeeping. There's even an extra envelope (in case of an addressing mishap), as well as four first class postage stamps including one custom-designed teacher stamp. Each delivery has four different ready-to-use postcards and pertinent AnecNOTES! overflowing with tips, ideas, and nifty facts for that month, too. There's also an extra surprise each month. That's a lot for the starting price of just $17.95
Teachers often take the time to write heartfelt notes to their students (like this one who made the news most recently!) so this is the perfect subscription box to support them!
The Executive Functioning System of 10 essential executive functioning planning tools helps students master life skills that matter. It includes 2 planning action pads, sticky notes, dry erase boards and markers, and helps students plan their month, day or week with easy to-do lists and tools to help manage!
With more than 100 unique Classroom Products as well as many teacher gift products, Teacher Peach has all the essentials for both students and teachers. From specialized pencils to certificates, stickers, posters, postcards, welcome kits, desk accessories, and more, teachers are prepared for school from A to Z with unique classroom products that can make the difference in terms of reward, recognition and support for kids.
Not to mention, we all know teachers dip into their own pockets time and again for supplies. Teacher Peach especially gets this and has just launched a Teacher Discount Program, offering its teachers year round discounts on all Classroom Products in its online store. In fact, members receive a 40% discount on all Classroom Products on their first purchase! Teachers then save 20% off all Classroom Products every day, with opportunities to win products as well.
Check out some other great products from Teacher Peach like totes, stickers, drinkware, and so much more at www.teacherpeach.com!
And don't forget, holiday gift giving is coming up. Teacher Peach has you covered with everything a teacher could ask for!