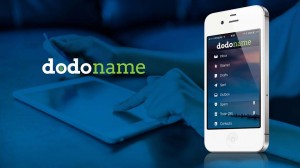 The world's first Privacy and Personalization app
We have all been there. You are at Joe's Discount Hobby Supplies getting ready to check out and see a flyer on the wall, "Sign up now and receive a coupon for 20% off your entire order." I see those at every store I walk into every day. Who doesn't want 20% off? So you read the fine print, go to the website on your smartphone and start the process. Enter your email address. Sure no problem. I do that all the time, what's the harm? I can just delete the email or unsubscribe later. Enter your name. OK. Date of birth. Address. And you start to rationalize. Well sure, they need to know I'm old enough and they need my address so that I can get the coupon for the right store. Next thing you know they want to know how many kids you have and how much you make and what kind of car you drive and where you went to school and when was the last time you and your spouse had "private time" and what were you doing shopping at that competitors store last Thursday at 2:13 pm?
The sad fact is, most of that information marketers don't really need. Don't get me wrong. They love that you filled it out, but they already knew it all. You know why? Because you used your email to sign up at Fred's Discount Hobby Supplies three years ago and the marketing firm they used sold all your information to everyone under the sun and they have been tracking you ever since. Don't believe me, take a break and do a Google search on "marketing and data brokers." Don't even get me started on what Google itself knows about you. They don't offer ALL their stuff for free just because they're nice. I have news for you. They offer you all their stuff for free so they can find out everything that they can about you so they can sell ads.
Now don't get me wrong. I'm not a conspiracy nut. I sign up for the coupons. I use Google for everything. I do all this knowing that they already know more about me than the hubby does. For me the benefits outweigh the negatives. But that doesn't mean I have to go quietly without putting up a fight.
And now I have a new weapon in the arsenal. Dodoname.
Dodoname is an awesome new app for my iPhone. And don't worry Android users, they're coming out with one for you soon (although not soon enough for the hubby, he was almost mad when I told him this was iPhone only right now). It's so simple to use it borders on genius.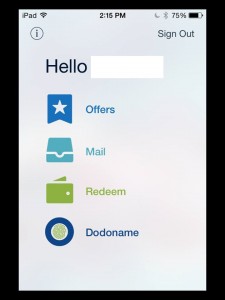 Sign up for Dodoname. You give them no information other than your email. You pick a username based on whatever you want. I won't tell you the superhero my husband picked for me. After that anytime you see a flyer for that "20% off discount just sign up for our email list" you press a button in Dodoname and boom, new email address. No, not your real email address, a Dodoname email address. This is an email that is not associated with anything that exists on the internet. It doesn't go to your real email address. It doesn't clutter up your spam. It doesn't give them any information about you. The message shows up in the Dodoname app where you can look at it, read it, delete it. Basically whatever you want. And when you're done? No more clicking on an unsubscribe link that doesn't really unsubscribe you for three years while they "process your request." Just make it extinct in Dodoname (extinct, get it? The hubby had to point that out to me. He thinks he is hilarious!).
The only downside to this app, they don't have an Android version yet. Please hurry up on that!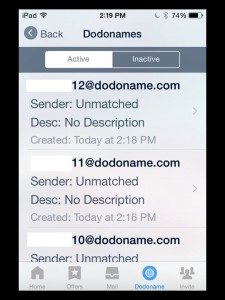 About Dodoname
Dodoname can be thought of as a unique email address used to form relationships with merchants or services. Eliminate spam while protecting your privacy with an app that gives consumers Freedom, Convenience, and Privacy.
Why Use Dodoname?
PRIVACY: Dodoname makes it so you never have to give out your real email address every again.
PERSONALIZATION: Complete your Persona and receive relevant offers from merchants.
CONVENIENCE: Manage online merchants, services, registrations, and information relationships with convenience and privacy.
FREEDOM: Use the web with the comfort of knowing that YOU are in total control of YOUR privacy.
JUST FOR YOU: Let Dodoname be your personal assistant. Complete the Persona features and receive only offers that you want.
AGGREGATION: Have all of your registration activities on the Internet managed in one app.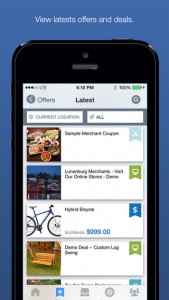 Dodoname is suitable for use when shopping, demos, registrations, and when WIFI access is needed. For additional information, click the links!
Connect with Dodoname: Download | Website | Facebook | Twitter
Disclaimer: This product was received from the Company for review purposes only. All thoughts and words in this post are my own and I was not paid to endorse it. I am only voicing my opinion about this product.