Moms – we've all been under the "Target spell" at some point. You know when you go in for one thing and come out with a new patio furniture set… how did that happen?! The one thing you did not think through before pulling up to the back dock to collect your boxes is how you are going to haul this home – especially when your kids are with you! As parents, it is way too much of a hassle to juggle loading the car up with big packages and buckling kids in at the same time.
With the PICKUP app, a new service currently available in Dallas, there is no need to worry anymore. Once you request a PICKUP via a mobile app, online or by phone, a good guy driver (former veteran, off-duty firefighter, or verified good guy) is dispatched to assist you – whether you are moving next door or across town.
Let's say I'm shopping with my three kids when I decide to buy a nice, heavy dining room table. Instead of trying to load the kids and that heavy table, I can take out my smartphone, pull up the PICKUP app, press a button and they will locate a nearby PICKUP. Viola! A driver will be there within 20 minutes to load and deliver items to your destination.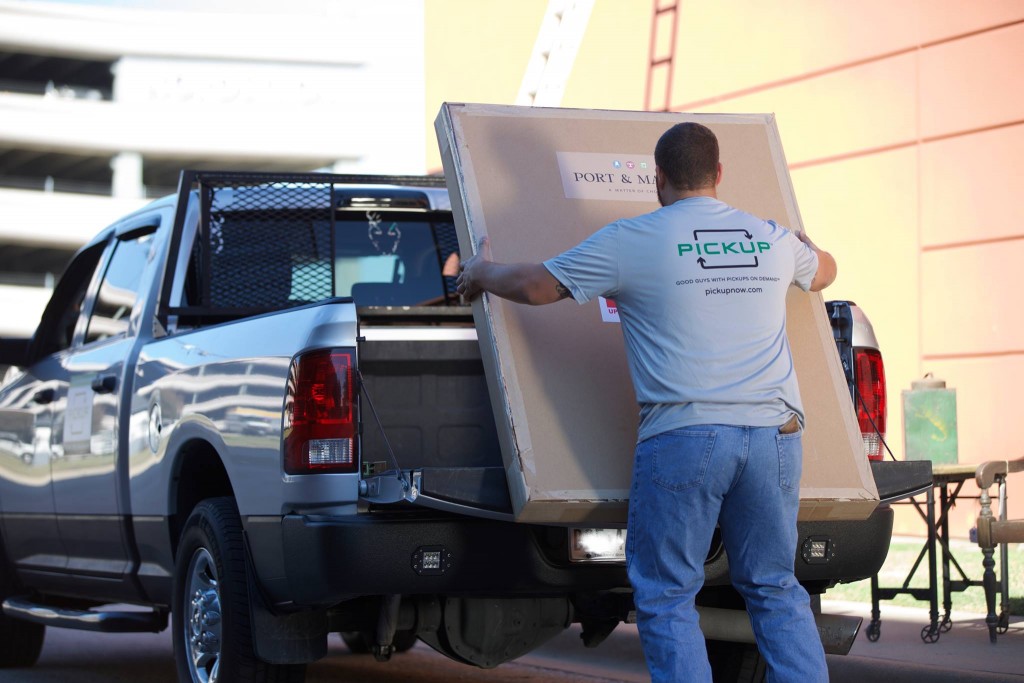 The company was created in 2014 by Chief Good Guy Brenda Stoner when she realized there was such a high demand for an on-demand delivery service and empty truck beds on the highways. Headquartered in Addison, a suburb of Dallas, Stoner and her team were recently funded by Perot Jain LP and Wetzer Capital.
The service runs at $1.50per mile +$0.80 per minute with a minimum charge of $45 and for longer runs you can check additional charges. It's a very simple, yet useful process. Each customer is quoted an estimated cost before the driver arrives and your credit card isn't charged until the trip is completed. If you're unsure if PICKUP can haul your load size, just take a picture, upload the photo to the app, and PICKUP will handle the rest. They will even bring your items in and can set them up for you – for an additional charge.
I can remember shopping before we had a truck and I had just purchased a new entertainment center. I had to go all the way back home to get my sister's truck so we could have the store clerk load the center. These days, I can select my items, finish my shopping with the kids, request a PICKUP driver and leave my item with customer service.
You can keep up on the latest about PICKUP via Website| Facebook | Twitter|LinkedIn |