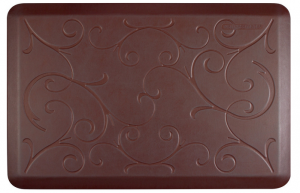 Think about all of those times where you've stood at the sink scrubbing those pots and pans.  What about those nights you've washed and chopped veggies for dinner, only to have an aching back by the time you're done.
Aches and pains will soon be forgotten with the comfort you'll experience with the WellnessMat.  These ergonomically made anti-fatigue floor mats come with a 7-year performance warranty.  You will experience comfort, safety, relief and support anytime you stand on a WellnessMat.
WellnessMats® Attributes
Unmatched comfort
Premium 3/4″ thick
Edges will never curl
No-trip 20˚ beveled edge
Anti-microbial (by design)
Puncture & heat resistant
Stain & dirt resistant
Easy to clean
Safe & non-toxic (PVC-Free)
7 Year Performance Warranty
My kids think it is a fun mat to jump on, while I enjoy the benefits and relief it provides for me.  It's like I step into a whole other world when my feet hit the mat.  Carrying extra weight, I found this also relieved some of the pressure on my joints.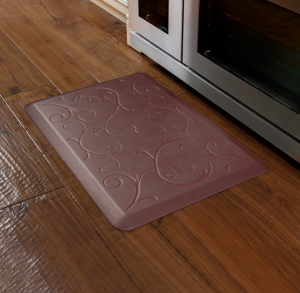 In a busy household with two small children, one of the last things I have time to do (or even want to do) is clean.  But it's a necessary evil, right?!  I really like the ease of wiping the mat clean.
In addition to all of that is the aesthetic design.  There's an assortment of designs, sure to please any personality or compliment any home.
Facebook | Twitter | Pinterest
Disclosure: I received this item for review purposes. No other compensation was received. All opinions are mine.