As parents in this ever-changing tech world, it's hard to know what kind of technology is right for our kids and when. And these days, it's more important than ever to stay in contact with our children. Besides the simplicity and convenience of being able to keep in touch, there are simply too many dangers in this world. Since most kids under 10 don't have smartphones, it's important to have a way to communicate in the event of an emergency or otherwise. Enter the Dyno smartwatch for kids. This watch is designed to be easy to use for children but with parents' peace of mind at the forefront. Check out some of the Dyno's cool features:
Nationwide 4G LTE coverage in the US & Canada
Compatible with iOS and Android
Battery life lasts up to 2.5 days
Customizable geographic safety zones
SOS button for emergencies
Water and dust resistant
Voice & text message communication
Customizable contacts
Alarm feature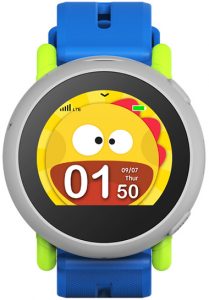 The companion apps allows parents to easily access all these features wherever they are. This gives you peace of mind and control while the colorful interface lets your child have fun interacting with family. They won't even know they're being…..gasp!….parented! Best of all, the Dyno smartwatch has been security tested through a company called IOActive, one of the nation's leaders in cyber-security. The Dyno smartwatch even won the Android Central Best of CES 2019 award for children's technology. Rest easy knowing that your child is within reach no matter how far apart you are.
Connect with CoolPad: Shop | Facebook | Twitter | Instagram | YouTube | LinkedIn