Do you remember those old "choose your own adventure" books when you were younger? I always loved the idea of those books, but nine times out of ten, I felt extremely dissatisfied with the adventure. I discovered pretty early on that there were only small differences in the overall telling of the story, and really there were only two endings and a handful of ways to get there. Lunii is a 21st-century version of the choose your own adventure books of yore. It is an electronic storyteller that allows kids and families to listen to interactive stories. Parents and children can pick what to do next for a unique and interactive story experience. Additionally, kids can choose their favorite stories to hear again and again!
The Lunii Difference
Kids these days are getting more involved in their tech devices. More often than not, these screens attached to our kids' hands act as more of a distraction than a beneficial tool. Furthermore, with constant stimulation from their gadgets, kids' attention spans continue to shorten. Parents are always looking for ways to cut back on screen time. Lunii offers a unique alternative to handing over a phone or tablet to keep kids occupied.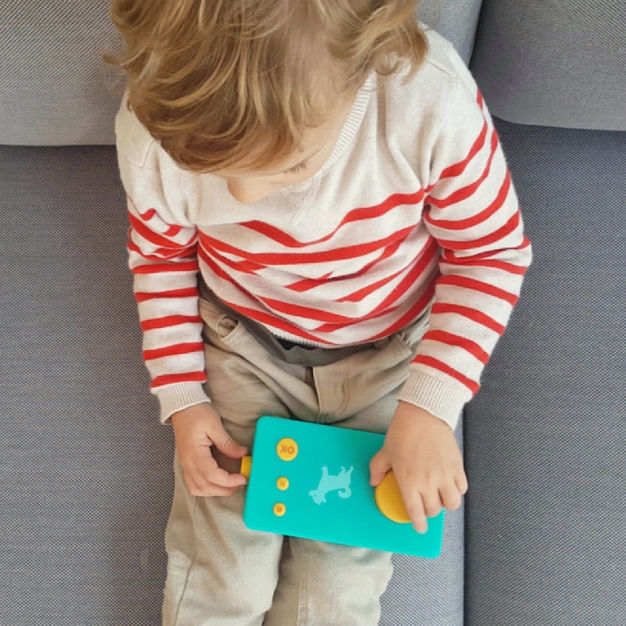 The Fabulous Storyteller
Every single night, my daughter requests three bedtime stories. We spend a total of about 45 minutes each night reading (and listening) to the same tired stories. Lunii offers an interesting twist on the traditional bedtime story for the little ones. Not only does it have close to 50 different stories available to download, but it provides an engaging way for kids to listen and use their imaginations. The interactive stories are great for kids to keep entertained and engages on summer vacations or road trips. However, it also works to keep kids' minds sharp and help curb some of the usual "summer brain drain".
The Specs
Lunii is compact and easy to use. With just a few small buttons, its simple interface makes use easy for even the most technologically challenged. The fun little gadget doesn't connect to WiFi, has no screen, and doesn't put kids in scary situations. All too often, we hear stories about kids' locations being disclosed on their phone apps. We hear of predators using apps to lure innocent children. Cyberbullying is at an all-time high. Lunii provides safe and approved content for kids and their families. There is no possibility of clicking a link or disclosing a location. It is sturdy and durable, and about the size of your old school walkman. Depending on what walkman you had, could be approximately the size of a breadbox. Fortunately, I'm referring to the standard, handheld-sized walkman. Maybe minus the Run DMC headphones.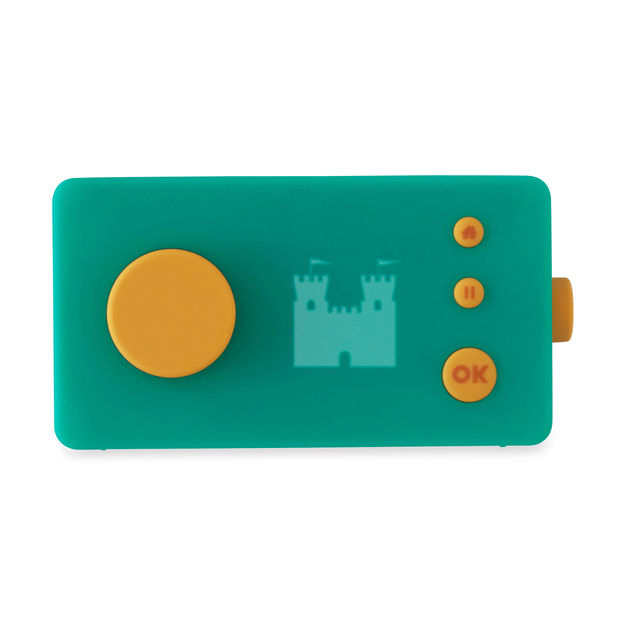 Where to Buy
Lunii will be launching soon in the United States. Currently, the best U.S. location to purchase the Fabulous Storyteller is through MoMA Design Store. Over 100K of these magical radios have already been sold worldwide. It's no wonder, either. With there being a bigger emphasis towards pulling our kids away from screens, the Lunii is the perfect way to keep those little ones entertained and engaged without reducing their attention spans.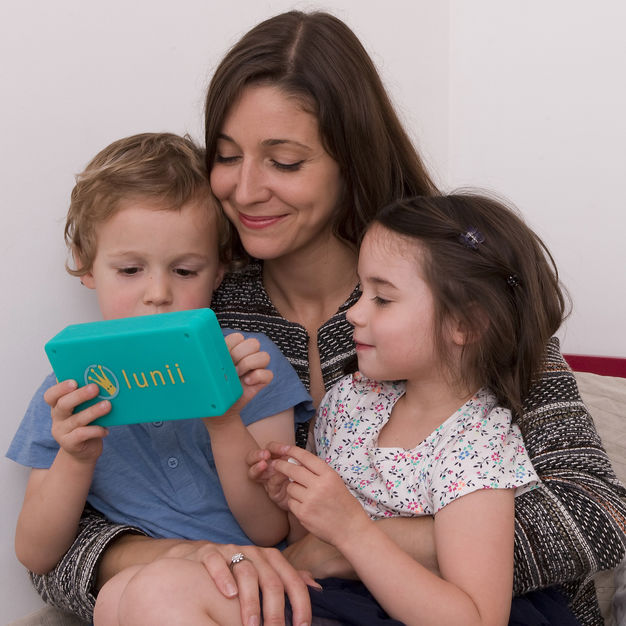 In my house, story time is bonding time. It is 45 minutes a day that I have with each one of my kids where we can discuss what we've read, share our thoughts, and allow the book to take us on a magical journey. We can go anywhere we want through our bedtime stories. The Lunii Fabulous Storyteller takes that bedtime story magic a step further. Professional storytellers lend their voices to the amazing adventures that encourage kids to picture the scene being told to them. Not only does it encourage and foster creativity, but the stories are a one-of-a-kind bonding experience for families and kids.