Every child deserves a bright future and every parent wants their child to have that future. Unfortunately, college is very expensive and not an option for many lower and middle income families. Scholarships aren't easy to come by and the cost of college tuition is rising exponentially. According to Business Insider, the average cost of a four-year education in 2015 was $23,872. It's never too late to start saving, but the sooner you start, the better chances your child has to earn a degree.
Another problem that exists in almost every household across the country is clutter. People have too much STUFF, especially kids. They get toys for Christmas, birthdays, Easter and Valentine's Day. And in some situations, like mine, kids get gifts at mom's house, dad's house, grandma's house and auntie's house. The STUFF is everywhere! As my kids get older, I'm having a harder and harder time each year trying to discover gifts that are both useful and won't break the bank. The Gift of College can help solve all these problems.
The Gift of College is a registry for 529 savings plans and student loans. How does it work? It's simple. Open a Gift of College account, link it to an existing 529 savings plan or student loan and start saving. A 529 plan is a tax deferred savings plan designed exclusively for higher education expenses. You can find a list of featured 529 partners on their website to help you get started.
The benefits are many:
Gift cards range from $25 – $200 and have no expiration date
Gift cards can be delivered via email or physical mail
Your purchase could also help someone pay off their student loan debt
You can convert unwanted retail gift cards into Gift of College cards
Every dollar saved is one less dollar that will need to be borrowed, reducing the amount of debt your child incurs.
Regardless of how much you save, a child is six times more likely going to attend college knowing there is money set aside for it
Your Gift of College registry can be shared on social media allowing for easy gift giving for far away friends and family.
The press is raving about The Gift of College. CNN, The New York Times, FOX News, Yahoo! Finance and many more have highlighted the benefits and convenience of this amazing gift.
Time Warner News gives a great video overview of how the process works.
Maribel Aber, from CNN's HLN Weekend Express had this to say :
If you don't know what to get kids this year, @MaribelAberCNN has an idea that helps them save money for college! https://t.co/p4rc2baBdm

— HLN Weekend Express (@WeekendExp) December 20, 2016
And in their "4 Ways to Give the Gift of College", US News & World Report touts them as the "replacement of a savings bond from Grandma."
Gift of College Gift cards make excellent gifts for any occasion:
Baby showers
Birthdays
Christmas & Hanukkah
Easter
Valentine's Day
Graduations
Just because!
Gift cards are great as stand alone gifts but can also be easily attached to additional gifts. Gift cards are the #1 gift in America for good reason. They're easy to shop for, easy to wrap and easy to use. Easter is just around the corner. Pick one up for your little bunny's baskets today.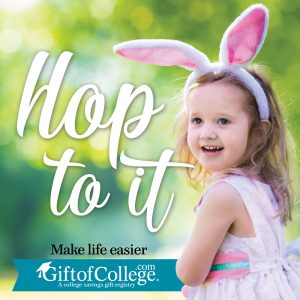 Start your child on the path to success now. The Gift of College gift cards are currently available online, at BabysRUs and ToysRUs and will soon be coming to Fred's in the southeast and H-E-B in Texas.