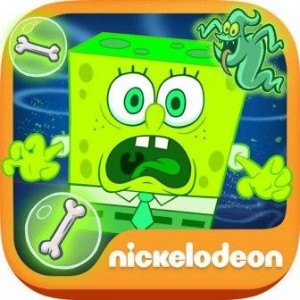 NICKELODEON'S HIT APP, SPONGEBOB MOVES IN, GETS GHOSTLY
WITH A NEW HALLOWEEN UPDATE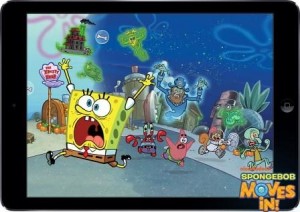 SpongeBob SquarePants fans are in for a treat this Halloween with a spooktacular update for the hit global app, SpongeBob Moves In. Launching today, gamers can transform Bikini Bottom into their very own haunted Halloween town and join in on some frightful festivities with their favorite Sponge.
In the latest update, Bikini Bottom becomes engulfed in a ghostly glow when the Ghouls Fools ship appears in Jellyfish Fields. When Lord Poltergeist and his ghost crew begin to take over the town, gamers must help SpongeBob rid Bikini Bottom of all the ghouls by cooking up some creepy recipes, feeding the hungry ghosts and much more. Whether they are completing tasks to unlock exclusive decorations for the town or dressing SpongeBob up in creative costumes, the new update is sure to give gamers both a chill and a thrill this Halloween season.
SpongeBob Moves In was released globally in June 2013, debuting at number one among all paid apps and reaching #1 in 34 countries. The title, which is regularly updated with new content, has remained a top ranking app since launch.
In SpongeBob Moves In players can customize the look of their undersea city with a variety of characters, buildings, and accessories. In the ongoing quest to keep Bikini Bottom inhabitants happy by fulfilling their wishes, players must collect happiness to fill the town's happiness meter. Residents wish for food and gifts from the various Bikini Bottom restaurants and shops, like Krabby Patties from the Krusty Krab or a bouquet of flowers from the Flower Shop. Once their wish is granted a treasure chest will appear for the player to open and collect gold coins, happiness or a new recipe to add to their collection. When the happiness meter is filled, players advance to the next level in the game, earning coins, game experience and unlocking more quests, buildings and accessories to buy in the store.