Sorority College Trunk from Dorm Co.
Dorm Co is your one stop shop for everything your college student needs. But to be honest, Dorm Co isn't just for the college student! They offer a lot of high quality products at great prices. It is the perfect place to save money while furnishing your first apartment or find organizational products!!
We recently had the opportunity to work with Dorm Co and review one of the amazing products that they have to offer. Dorm Co sent us a Sorority College Trunk to review free of charge! I have been looking to purchase a trunk for the last year but haven't been able to find one that was high quality and well made. The ones in my local retail stores are high prices and clearly cheaply made. That is not he case with the Sorority Trunk from Dorm Co.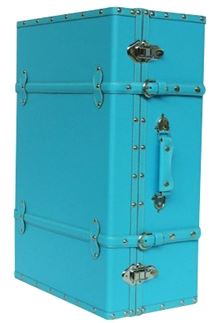 We picked the sorority college trunk in a beautiful Cyan Blue. This is a large trunk perfect for the end of the bed storage or toy box for the kids room. I used it as an extra storage dresser for my clothes and hide my make up. I admit I used to stack my extra clothing that I didn't have room for in the drawers on the top dresser. Sounds silly but my five year old daughter can find my make up ANYWHERE I hide it. So the trunk came in handy as a second dresser to neaten up the bedroom and keep my make up out of sight of my little diva. The trunk measures 29″ L x 20″ W x 14″ H and has wheels so that you can easily move it around. This is perfect for moving the trunk when I need to get clothing out or when I get my sudden urges to reorganize or decorate my room. This happens more than you think. You can add up to 2 padlocks to keep your belongings safe and sound. Store them in the beautiful Sorority College Trunk, where they will stay neatly folded and free of dirt and dust. The Sorority College Trunk is even perfect for travel!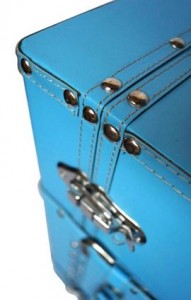 Are you ready for the best part? Dorm Co is giving one lucky reader the chance to win their very own Sorority College Trunk!! Just imagine how beautiful this trunk will look in your home, dorm or while traveling. You won't want to hide the Sorority College Trunk in a closet. The beautiful craftsmenship is something you will be proud to display in your room! Be sure to be on the lookout for the giveaway!
The Dorm Co has been generous enough to offer one lucky mom blog society reader a chance to win a Sorority College Trunk. Simply click the image below to enter via the Rafflecopter. Good Luck!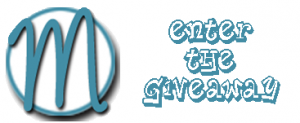 If you would like more information or if you would like to purchase Sorority College Trunk, please visit the Dorm Co Website. Be sure to stay up to date on all of the latest news and products from Dorm Co by following their social media pages on Facebook and Twitter.
Disclaimer: Mom Blog Society received product free of charge to write our review. All opinions stated in our review are our own truthfully opinion and were not influenced by the sponsor or from getting the review product free of charge. We were in no way compensated for our review or opinion.