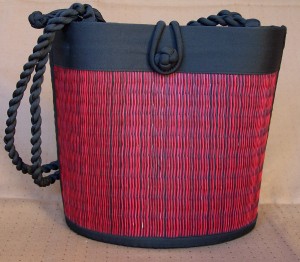 If you've not heard of  Fair Trade Design, boy are you missing out! I received the Curved Tatmai bag and all of my friends, family and, even strangers I meet when I'm out and about stop to comment on the uniqueness as well as the cuteness of my bag. Today I'm happy to bring you handmade bags like you've never seen before.
This beautiful handmade bag is "made  by the original Cambodia basket company that has grown from a poor family of 8 to over 400 women workers. They are provided health care, yearly dividends, and schooling options in addition to a fair wage, well above the average local wages. The increasing esteem they feel from the response to their handiwork is priceless. That poor family who were the first makers was headed by a single woman, sick and in need. She's now healthy, her daughters sew for the co-op and her son helps to develop new styles".
I've gotten so many compliments of my bag from groups of all-ages. That's how amazing and popular these cool bags are! When I know I'm going to a crowded event, I take one of my Fair Trade bags just for conversation starters alone! If you're trying to stand-out-in-the-crowd simply purchase a lovely bag from Fair Trade and take it with you wherever you go, I guarantee you, you will stand-out and draw the desired attention to yourself.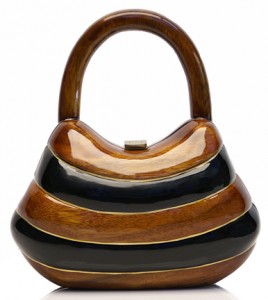 I also love the Capucine Hand-Carved Acacia Wood Purse, "A wearable work of art, this stunning bag is handmade from sustainable acacia wood by women artisans in the Philippines. An elegant look that transcends fads and seasons, this bag will steal the show when you carry it!  Features include a wood handle and a detachable shoulder strap.  Fully lined."
Buy it; Curved Tatmai Bag
Connect With Fair Trade Design  Facebook | Twitter | Pinterest |
Win a Fir Trade Design Bag!
Fair Trade Design has been generous enough to offer one Lucky Mom Blog Society reader a chance to win a red Curved Tatami Bag  . For you chance to win, simply enter via the Rafflecopter below. GOOD LUCK!
Disclosure: I received a free product from the sponsor to review. I received no monetary compensation and my opinions are my own and were not influenced by the sponsor.