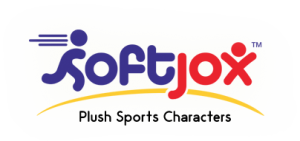 I was so excited when Soft Jox came in the mail. Jacob had no idea that we were getting it, and when he opened the box, his little face lit up. Jacob loves his Soft Jox. He plays with his stuffed man all the time. Personalized with his name and number I picked, this football player has made Jacob have hours of fun. Jacob shows everyone, that comes over, his adorable football player.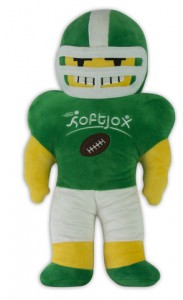 Soft Jox gives you free priority shipping, on all orders. You can also pay using PayPal, or any major credit card. Soft Jox, this year, will add Cheerleaders, Basketball Players, Baseball, Soccer & Hockey. You will literally be able to get any sport here.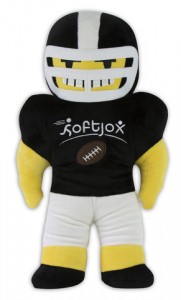 You can also get Soft Jox in multiple colors. My favorite is Black & White, because I live near Pittsburgh, so it reminds me of the Steelers.
About Us
Having two young boys who are active in sports and observing how they and most of their sports minded friends enjoy plush toys, an idea popped into my head in the summer of 2010. Plush sports characters. I decided to create a series of plush sports characters that were not animals or mascots, but not entirely human looking either. I wanted the characters to be fun, animated, cool, soft and high quality without the use of hard pieces or uniforms. I wanted to create a cool sports logo to represent the concept, and also look great on sportswear. Being a toy industry "outsider " and busy with my day job, it took over 4 years to figure out and bring Softjox to the market. They are original characters that are not based on a movie, television show, book or real people. They are, however, based on real sports, sports that kids love to play and watch. They come with no specific names. It has been my experience that children love to name their plush toys, just as families like to name their pets. To make them even more special we are offering them with the ability to customize by applying a name or nickname and/or number to the back of the characters. The first release in September 2014 is a football character in four color choices. The next releases will consist of basketball, soccer, baseball and hockey characters, as well as a cheerleader. It is my hope that these characters will put smiles on the faces of children all over the world.
Connect with Soft Jox: Shop | Facebook | Twitter
Disclaimer:
This product was received from the Company for review purposes only. All thoughts and words in this post is my own and I was not paid to endorse it. I am only voicing my opinion about this product.