Video games are a big part of today's mainstream. Kids and adults alike enjoy playing them and pretending to be a character for a fun distraction. The problem is in fact that adult video games are not suitable for child audiences to play. Skylanders Imaginators is the perfect combination of 'for a child' with the character play that an adult can enjoy with them. This makes these games great for a child to use their imagination while still being able to play.
My grandson spends quite a bit of time playing around with the different combinations. He also hasn't beaten it yet. What would be the fun if it was that easy to win? With this game, there is always something more to do. Sure you can blast through it. But the fun is in taking your time and finding everything. I like the fact they made the ex-villain senseis too. Yes, we have many of the older Skylanders but how often do you sit there and play with every single one? I mean new is always exciting.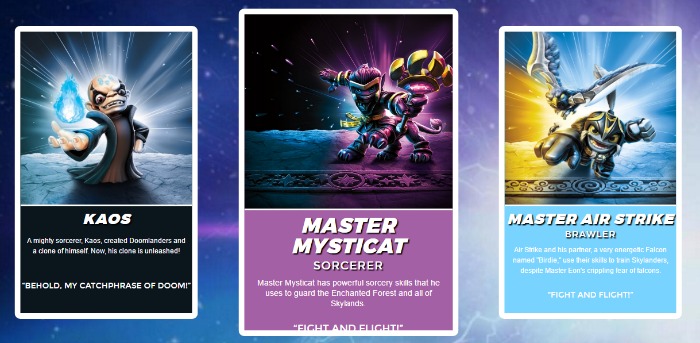 The senseis above are just three of the new ones that have come out. In the new game, there are 31 all-new Skylanders Senseis heroes to collect, and infinite possibilities to create your own Skylanders with Creation Crystals!! Now that has to be exciting to any Skylander game fan.
The Sensei Skylanders are great warriors from 10 powerful Battle Classes that can help train the Skylanders Imaginators that you create. These Masters, with amazing abilities, unlock super-cool benefits like weapons, access to special areas in the game, and secret techniques. These Sensei's also have almighty Sky-Chi Powers, the ultimate super move, and will teach your created characters new skills to use in the fight against Kaos.
You can also make your own Skylander, Yes! You can use an Imaginite Creation Crystal to create your own Skylanders! Just put the Creation Crystal on your portal and use your imagination to create the most heroic Skylanders possible!
The Skylander Imaginators pack comes with:
1 Video Game
2 Sensei Skylanders
1 Imaginite Creation Crystal
1 Collection Poster
1 Sticker Sheet
Skylanders Imaginators play on listed game platforms listed on their website.
To keep up-to-date with everything Skylanders you can follow their social media below:
Facebook | Twitter | Instagram |YouTube | SnapChat | Website