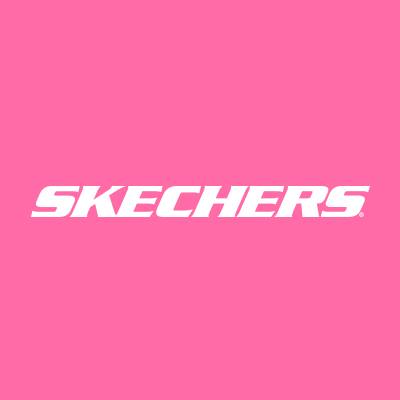 Have you ever been on a long car ride with a little one and thought, if she/he asks me when we will be there one more time, I am going to stick my head out the window and scream? Hmm, this could easily apply to a short car ride as well if your son or daughter is anything like mine. For example, we live 10 to 15 minutes from my daughter's school and every morning she asks me how much longer it is going to be before we get there. She knows the way and she can tell me when and where to turn, I am pretty sure she does it just to see if she can get me to rip my hair out or cause me to go gray faster than I already am.
Imagine the joyous surprise when my husband suggested that we take a weekend trip to Cleveland, about four hours away, to see his family this summer. Remember the song, Joy and Pain by Rob Base? These are the two words that went through my head as he was talking, they were even sing songy in my head, I would love to see the family but … that long in a car with my daughter. Do you see where the Joy and Pain comes in? I have no idea what my husband said or even when he plans on going, I figure I will find out when he comes home one Friday night and freaks out because the bags aren't packed.
So, as I was saying, since I would prefer to keep my hair and I am only willing to dye my hair every six weeks, it is important that we have things for my daughter to do while in the car. She has crayons and coloring books, an iPad Mini (it is mine but she has commandeered it), books, and little gadgets that help her with learning. The problem with this is, she is five and gets bored rather quickly. My husband describes it as having the attention span of a gnat. It really isn't that bad but you get the idea. We like to have as much artillery in our arsenal as possible and that is why I was absolutely giddy when we are able to add SKECHERS Game Kicks!
Here is how they work:
If you are old school like me then you will remember playing Simon, right? It's the same concept. It's just easier to take with you and not forget because the game is attached to your feet. Seriously, look at the chart … Simon!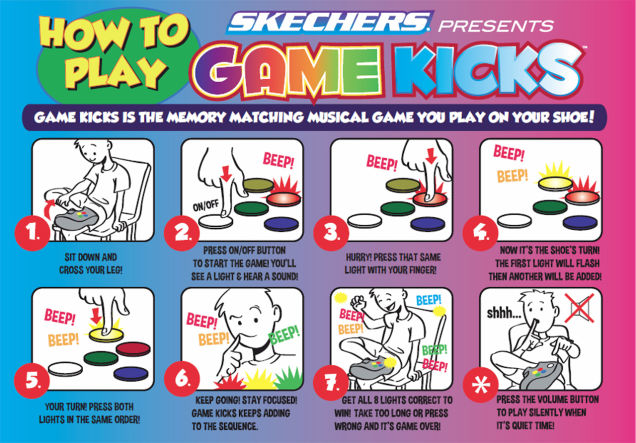 A little more about the shoe:
Smooth metallic leather upper with synthetic overlays and colorful metallic mesh fabric panels
Bungee stretch laces with flower details and Side S logo with four-color motif
Fully functional game feature consisting of four colorful flowers that light up and make sounds in a 'match the pattern' game
Reset button that turns sound on/off
Cushioned insole with lightweight shock absorbing midsole
Colorful, colorful, colorful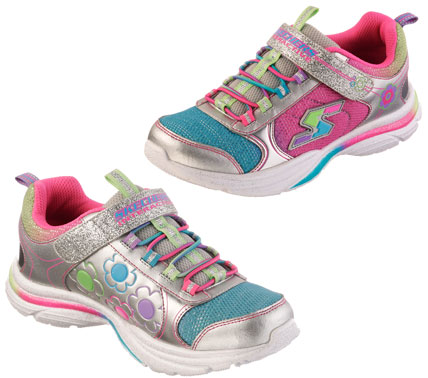 Thanks to SKECHERS Game Kicks there are no more car rides with my daughter asking when we will be there. She is too busy making sure she gets the patterns right because she loves to WIN! 😉
Parental Note: Please think carefully before sending your son/daughter to school in Game Kicks. Our preschool teacher wasn't overly appreciative of our actions when the class was more interested in my daughter's shoes than learning. We now reserve our "special shoes" for evenings, weekends, and the upcoming summer break.
Connect with SKECHERS: Shop | Facebook | Twitter
Disclaimer: This product was received from the Company for review purposes only. All thoughts and words in this post are my own and I was not paid to endorse it. I am only voicing my opinion of this product.