Today it's all about the Minions! Their very own movie will be in theaters July 10, 2015. These funny yellow creature will make it hard for you to keep a straight face. My kids love their slap stick comedy and I love that they are just good fun. We can't wait to see the movie. Until then, I have some product that I think you'll like. Perfect for some summer fun with your little minions.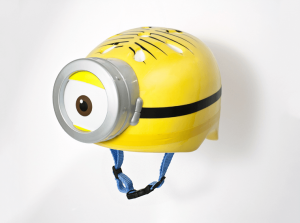 Transform yourself into a minion while staying safe! I know that when I was a kid, wearing a helmet was not "cool". I think SkyRocket Toys has put the cool right back into the bike helmet.
Minion Made Multi-Sport Helmet

Safety and fun come together with the new Minion Made Multi-Sport Helmet! Kids will love the custom-molded styles that look like their favorite Minions, and parents will love the durable and comfortable design that protects their little ones' heads. Available in two styles – with one eye or two.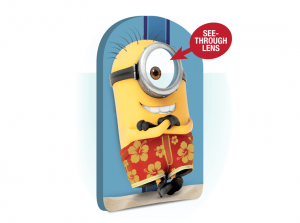 Pool time has never been so much fun. This minion boogie board is perfect for splashing around in the summer heat. The eye of the minion is clear, so you can see through it and watch your friends swim below you.
Minions Goggle Kickboard

With the Minions Goggle Kickboard, kids can see into the water below through the special porthole that's built into the kickboard. While in the water, the board looks just like a Minion – kids and their friends will love to swim along with him!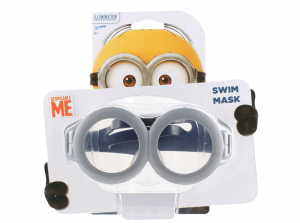 You can also swim the deep blue…pool, with these adorable swim goggles. Become a minion of the sea. They are large and modeled after the minions. They adjust so they will fit just about anyone. My kiddos love that they are nice and big, unlike normal swim goggles. So it makes it even easier to see under water.
Minions Swim Goggles

Ever wanted to look just like a Minion? Now you can when you swim! Your little swimmer will be excited to wear these goggles. If there's one thing Minions know, it's to keep those eyes protected!
Connect with SkyRocket Toys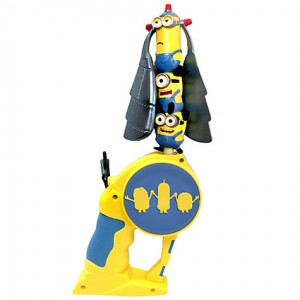 More minion fun comes from The Bridge Direct. They have amazing Flying Heros. Minion style! These minions high flying. They are best used outdoors
are they can go quite high. They are so much fun to play with and the kids love seeing who can make them go the highest.
Minions are taking flight – just like in the movie! With a simple pull of the cord, you can send them flying like never before! Attach the Minions to the launcher, pull the cord, watch them zoom into the air, do it over and over again.

• Stack of 3 Minion characters with wings take flight from the pull of the cord

• Launcher is easy to hold, flies different heights every time

• Collect all Flying Heroes characters & play together
Connect with The Bridge Direct