Bona is a family owned company founded in 1919 that is currently the world leader in hardwood floor care. They are headquartered in Sweden and their products are currently available in more than 70 countries worldwide. They provide products for hardwood floors including installation, maintenance, and renovation.
Bona's line products include Hardwood Floor Mops & Accessories, Hardwood Floor Cleaners, Stone, Tile & Laminate Cleaners, Household Cleaners, Wood & Other Surface Polishes, and the Bona Pro Series. I am most excited about the fact that they are also the first in their industry to offer a complete hardwood floor finishing and care system that is GREENGUARD Gold Certified. They also offer Certified asthma & allergy friendly products certified by the Asthma and Allergy Foundation of America.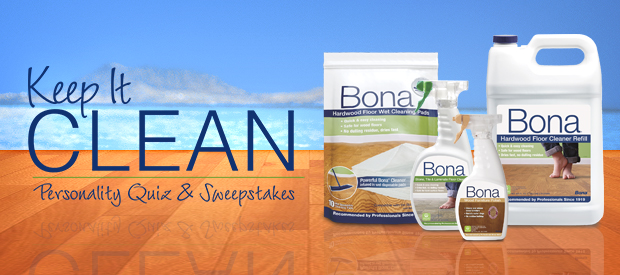 Bona recently launched their Keep it Clean Personality Quiz. It's a really fun quiz that asks you cleaning-oriented questions. Once you are done you will get your cleaning personality; Perfectionist, Multitasker, Social Butterfly, or Dancing Queen. I got the Perfectionist, which I am not surprised about since I have been compared to Monica from friends! After taking your personality quiz you will get a chance to play for a chance to win a Bona Floor Mop Express. Registering will also enter you to win a year of cleaning services for your home, which will be awarded as a $3000 check, or a Grand Prize trip to Hawaii for 4! You can play daily!