I am sure we all know how our back feels after standing most of the day cooking meals for our family or standing and washing a pile of dishes. I know that when I get through the mountain of dishes on a daily basis my lower back is killing me. Sometime I stretch afterward and sometimes I have to go lay down. When I was younger I was in a car accident. It wasn't too serious on both parties but I hurt my back pretty bad. On days when I am standing on my feet for a while or being active, it starts to ache a bit. One of my friends had told me about these comfort mats that go on the floor at the sink or the oven so that when you are doing your dishes or cooking, you are standing on cushions. Once I had the opportunity to test out the Imprint Comfort Mats I was ecstatic!
Sink your feet into the Imprint® Cumulus9™ Comfort Mat with its proprietary Multi-Core Technology. Feel how it conforms to the shape of your feet and supports your arches for relief of back, leg and foot discomfort. The advantage is its proprietary multilayer cushioning system. The soft, upper layer luxuriously cushions your feet while the firm, lower layer provides soothing support. You'll want an Imprint® Comfort Mat everywhere you work and stand – kitchen, laundry, bathroom, garage, workshop and more.
Top Consumer Rated Comfort Mat — Up to 60% thicker than other mats!
University tested and proven by the Center for Ergonomics to reduce overall fatigue and discomfort by up to 60%.
No-curl edges and stay-flat memory ensure Imprint® Mats won't curl like other mats
Lifetime 100% satisfaction guarantee! If you don't love your new Imprint® Comfort Mat exchange or return it without question. Whenever.
Environmentally friendly, non-toxic and phthalate free. Safe for children and pets.
Tested and certified by the National Floor Safety Institute
American Chiropractic Association (ACA) Partner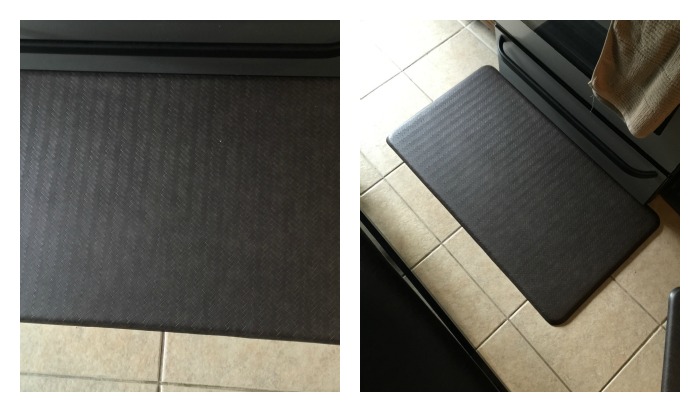 I was so happy with the Imprint® Cumulus9™ Comfort Mat. Everything that it claims to be, IT IS!!! Its like having super cushiness under your feet! The first time I washed my dishes, I did not even have the normal lower back pain as I usually do. I was in shock that all it really took was the proper support under my feet. I have been raving about these comfort mats so much that my best friend and sister have purchased one for themselves as well. Of course they cannot stop raving about it as well!
This is an awesome product for anyone who is on their feet in the kitchen. This also makes a fantastic gift. Make sure to check them out on all of their Social Media pages.