Satisfy Your Sweet Tooth with Brownie Brittle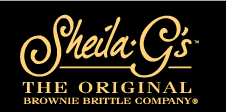 I admit that I have a sweet tooth. Especially late at night. I know that this isn't good because you aren't supposed to eat an hour or so before bed. I usually get cravings for baked goods or something that I have to make like brownies.
We recently had the opportunity to work with Sheila G's The Original Brownie Brittle Company and review their amazing products. We were sent all four flavors to review free of charge. Brownie Brittle was a huge hit with the entire family. Especially the kids. The kids and I try baking several times a week but sometimes everyone's busy schedules and running errands doesn't allow it. One of the kids favorite baked desserts are brownies. They love the crunchy corners of the brownies and there is usually a fight for the edges.

Sheila G's The Original Brownie Brittle Company has the perfect solution for anyone who loves the corners of brownies. The amazing crew over at Sheila G's The Original Brownie Brittle Company sent use all four of their flavors, Chocolate Chip, Toffee Crunch, Salted Caramel and Mint Chocolate Chip. When our samples of Brownie Brittle arrived, I opened the bag of Chocolate Chip just to take a quick taste. I fell in love immediately. The Brownie Brittle tastes just like brownies but so much better. They are crunchy almost as if you were eating a cookie made of brownie mix. Right away I thought of how I could use Sheila G's Brownie Brittle in my favorite recipes. I am going to use the Mint chocolate chip brownie brittle as a pie crust for my favorite cheese cake recipe. The kids love using the brownie brittle as stir in toppings for their yogurt and ice cream. It was extremely hard to pick my favorite flavor. They are all amazing and definitely satisfy my sweet tooth!
If you would like more information or to purchase Brownie Brittle, please visit the Sheila G's The Original Brownie Brittle Company Website. You can also find Brownie Brittle in your local Shop Rite, Bed Bath and Beyond and other fine retailers. Be sure to stay up to date on all of the latest news, products and flavors from Sheila G's The Original Brownie Brittle Company by following their social media pages on Facebook, Pinterest and Twitter. While you are there be sure to follow Mom Blog Society on Facebook and Twitter.
Disclaimer: Mom Blog Society received product free of charge to write our review. All opinions stated in our review are our own truthfully opinion and were not influenced by the sponsor or from getting the review product free of charge. We were in no way compensated for our review or opinion.