Did you ever hear that song "I'm Gonna Wash that Man right Outta my Hair?". Maybe I am aging myself but nowadays I've heard many of us older people singing "I wanna wash the gray showing up, outta my hair". Now listen I do not have a lot of gray, but I am starting to notice what I thought were my blonde highlights are gray highlights instead. Talk about being bummed out.
Recently I had an event I had to attend and my friend Mary who do my hair wasn't able to fit me in. I didn't know what I was going to do at first but then I searched and found 'Tween Time.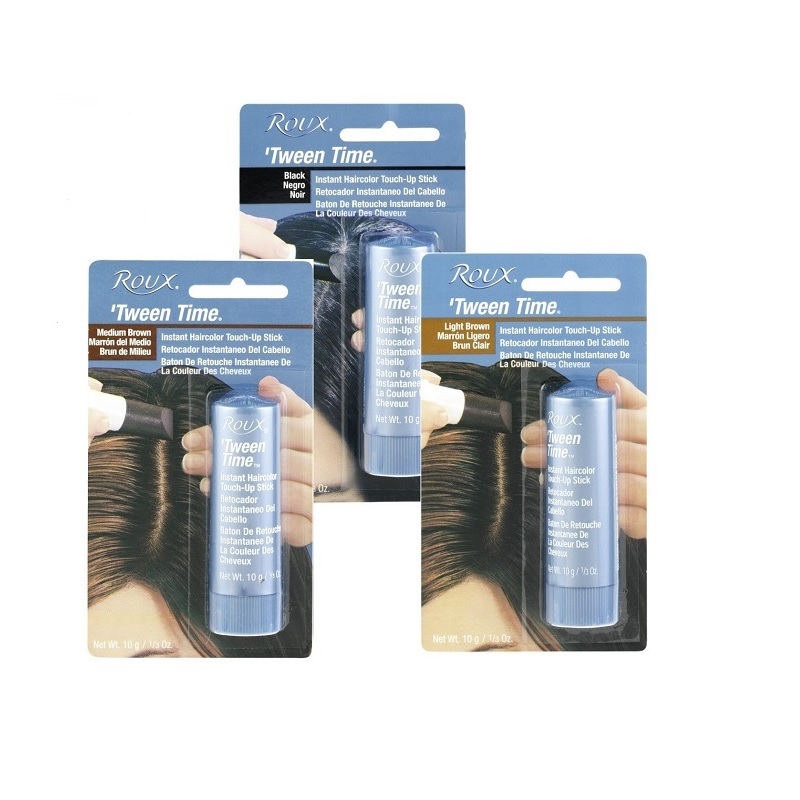 The awesome part was I found Tween Time in two locations. Both places were within 20 minutes of my home, and I found this out by using Roux's store locator on their website. All I had to do was put in my zip code and it located the places that carried it in our area. All of the sudden I wasn't feeling so bad anymore that I couldn't get in to get my hair done. One of the great things about finding Tween Time in my area was, it took me less time to go get "Tween Time" than if I had gotten my hair done by Mary. Lately, time is not something that I have a lot of.
What I learned from their website was how I could instantly cover up my gray with a choice of 5 different shades. They have light brown, dark brown, dark brown, black and auburn. My hair is like a light brown so I was sure the light brown color would work best for me. 'Tween Time is a non-flaking, non-damaging touch-up color stick that I can use every day with beautiful, natural looking results. This product also shampoos away instantly. I love that it isn't a permanent color, this way if I decide to color my hair permanent later I won't have any issues with doing so.
So the next time you look in the mirror and find yourself singing "Gonna Wash That Gray Right Out Of My Hair" think of Roux. They have the colors you need to providing your hair with the color results you want!
Roux is such a wonderful product and they offer more than just the 'Tween Time. You can view their other products on their website here.
Follow Roux on their Social Media below:
Facebook | Twitter | YouTube | Instagram