Although Roux Beauty will not fix your personal outlook on life, they will help you have a 'new look'. Roux Beauty has so much information on their website and you are bound to find the right product for your hair.
First off Roux Beauty has an awesome ANTI-AGING SECRETS EBOOK. It has 101 Ageless Beauty Secrets. How great would that be to have a free ebook that you can save to your computer or print off to refer to when needed.
There are times that they offer free samples. It is always a great idea to check back if they don't when you visit. You can also get your supplies at Sally's Beauty by checking on their store locator.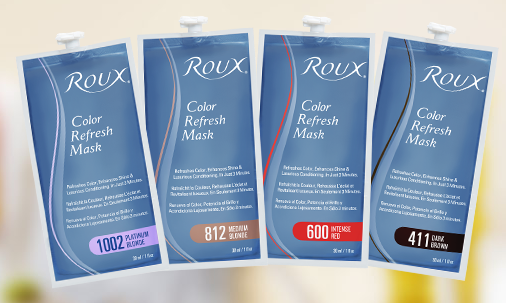 Roux Beauty has many different products to choose from. For instance, with the Roux Color Refresh Mask, you can revitalize your permanent hair color in just 3 minutes. This is so convenient for me, especially if I need it in between hair appointments. Also, there are times I am asked on a trip last minute and my hair stylist just can't fit me in. This is where I really like this color refresh mask. With the color refresh mask, you can boost your confidence and feel radiant without effort.
Boost your radiance and confidence…effortlessly. Replenish your permanent hair color in just 3 minutes with the Roux Color Refresh Mask. Consider it your little instant-beauty secret, because really no one needs to know. This is available in four vibrant shades. The choices are platinum blonde, dark brown, medium brown and intense red. I have always wished I could have been a red head like this vibrant color. The positives of this color refresh mask are:
Refresh your permanent hair color in 3 minutes
Available in 4 vibrant shades
Provides intense moisture and conditioning
Leaves hair soft to the touch
Adds amazing shine
1-2 uses per packet
Use on permanent, color-treated hair
Color lasts 3-5 washes
Follow Roux on their Social Media below: