I love summer – the relaxed attitudes to just about everything, including what I eat and drink. But come September I am ready to get back into shape and by that I mean – get back into my pants that are a little uncomfortable to zip up!
But here's what I have noticed for the past few Septembers as my kids get busier and busier with activities, sports teams, music lessons… everyone is counting on me to keep things organized and make decisions and FEED them. It's hard to do it all. Convenience is my friend, sometimes my best friend.
Unfortunately most convenience and packaged foods do not help with getting rid of summer indulgence and they definitely don't help with getting those pants zipped up. (It's like someone came along and shrank them while I was enjoying my summer.)
Even though convenience food is such a great solution when you are already so busy – it ultimately leaves you feeling more tired and bloated, and often grumpy. It's the blood sugar spikes and plunges. And it does nothing to help the tight-pant situation.
So what's the answer?
Most of us know the solution. Prepare meals with real, whole foods. Shop the perimeter – not the aisles. Fill up on lots of fresh vegetables and fruits. Avoid added sugar – and all the other items in some of the fine-print ingredient lists that have names that are hard to pronounce – let alone identify on a food pyramid. Easy-peasy, right? Ha.
Time is the problem. Who has the time to cook from scratch from whole food – for EVERY meal? Not to mention the planning that goes into making sure you have everything on hand.
What if you could kick-start your healthy eating habits? Get rid of any dependency on foods that are harmful to your body? Lose that sluggish, low-energy, bloated feeling? And lose a few pounds while you were at it?
You can.
It only takes two weeks. I've got the system down to a science – honed first on myself and then on some (amazing!!) friends. Now it is a perfected system, ready to work for all busy moms, tried and tested.
I've coined it the 'Detox for Busy Moms' but don't get thrown off by the word detox. It definitely doesn't involve juicing everything or eating brown rice at every meal or anything like that. It's all about pampering yourself with a healing (and empowering) diet of whole foods.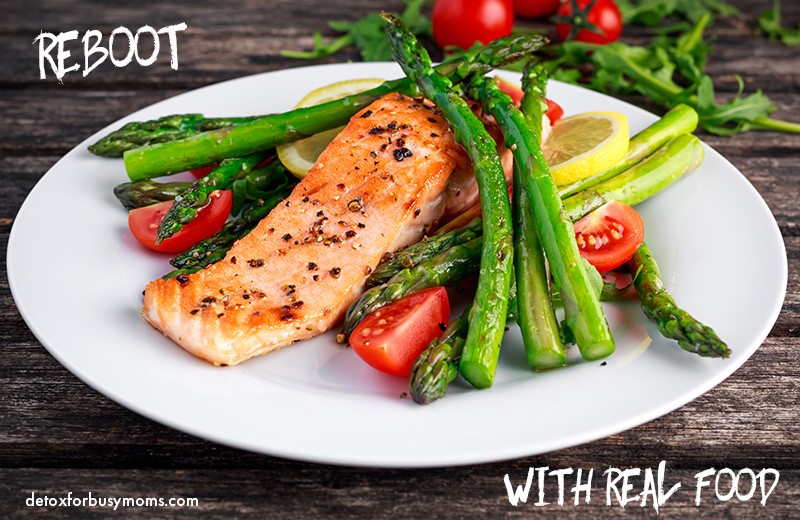 So what's involved?
For starters, you get to take a DECISION VACATION. Seriously. You do not need to make a decision about what to make for breakfast, lunch dinner or snacks. I'm going to do all that for you. You'll get the meal plan for everything and recipes, grocery lists and instructions for every meal.
But what about all the prep in cooking all those meals? Doesn't it take way more time to prepare whole food?
Not if you have every last detail planned out in advance – which you will, since that is all part of the plan. It will take you no more time shopping or prepping meals on this plan than it would if you were relying on convenience food. Many people will find it actually takes them LESS time all together to follow this plan for 2 weeks.
You may be wondering what the rest of your family will be eating while you are detoxing. This is not one of those diets where you have to prepare one thing for yourself and something completely different for the rest of your family. As a busy mom myself I would never send you down that rabbit hole!
Everyone in the family is going to be eating what you are eating. It's all real, delicious food. No fancy potions or concoctions. No – they do not need to officially 'detox'. The entire plan is Family Friendly. That means that recipes have suggestions for what to add to make it kid-friendly (and partner-friendly). The family friendly suggestions are worked right into the plan and the grocery lists. If you're interested in natural herbs and spices to aid you along your journey, discover more about how turmeric benefits weight loss.
Does it really work?
Here's what Catherine, a real-life busy mom, had to say about the plan:
Your recipes are easy and sooooo good. They have really shown me that I can cook a mostly veggie diet with only fish and very little dairy and bread, and feel satisfied. This is an eye opener for me. Thank you!
Also, I find that while I am chopping more, the actual cooking is a breeze and there are less dishes and less garbage (less containers). I feel very virtuous at the grocery store and proud of my mostly veggie and fruit purchases. Also, shopping takes less time. The food lasts for ages, and makes the best leftovers ever.
Registration is now open for the September Detox for Busy Moms. Currently there is a smokin' good sale – it's half price – because I want EVERYONE to try it and see how great they feel. You can see all the details here.
It is 100% risk free to give this a try. If you try it and it is not for you – then there is a money back guarantee. No questions asked. But I know it is going to work for you!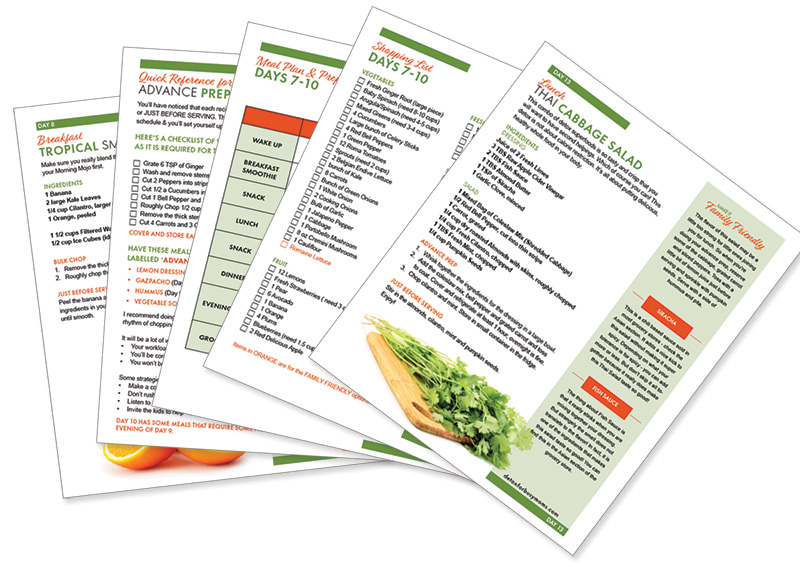 Not just another shiny new diet.
Ever stand in the line-up at the grocery store and read things like:
Lose 10 pounds just by doing this one thing for 5 minutes for 10 days…
Get the perfect body just by eating this one strange food…
Okay – well obviously those are exaggerated fad diets. And we all know they don't really work but still, there's something compelling that makes you kind of stop and look.
The idea that something that is actually hard could be made easy is appealing.
I know I've gotten sucked into trying some different diets. Not the super obvious fad ones but the ones that sound do-able. I start with reading the book, getting excited, imagining how great success will be (and what I will wear) and dive in.
Something always seems to go wrong though. Ultimately the new diet isn't sustainable and I go back to what I was doing before.
Sound familiar?
When you take a step back and think about it – it's no wonder we haven't been able to make any of those easy-sounding just-do-this diets part of our routine over the long run.
Who has time to weigh how many ounces of protein are in their breakfast when they're trying to get kids out the door for school? Or to take a recipe that is clearly written for a single person, with mountains of time on their hands, and translate it into something family friendly? And who has the luxury of driving all over town to different specialty stores looking for particular ingredients?
The Detox for Busy Moms isn't like that. First of all – it isn't a diet. It is a 2-week plan to kickstart healthy eating. If weight loss is your goal then you will set yourself up for success that will last!
The only way to guarantee success at losing weight and keeping it off is to eat healthy, whole food with an emphasis on lots (and lots) of vegetables and fruit.
Our busy, demanding lifestyles often put us in a position where we develop a dependency on processed and convenience food. We just want to get some fuel in our tanks – and make sure the kids eat something, right?
Detox for Busy Moms breaks that dependency and sets you up for a lifetime of ongoing success.
This plan is designed for you to succeed. At the end of two weeks you are going to feel energized and rebooted. When it comes to the long run – these healthy habits are going to stick because they will fit in with your lifestyle!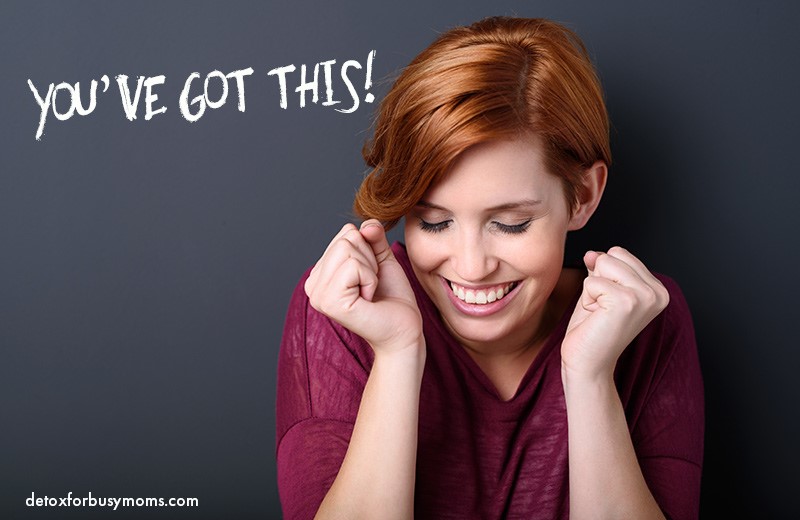 There is a free private Facebook Group associated to the Detox for Busy Moms. If you are thinking about signing up and want more resources – it is a good place to go. You can even download a free 1-Day version of the plan there.
Have a wonderful September!