Growing up I always loved reading the Laura Ingalls Wilder books. Every single one was a page turner to me, and even now I love picking it up and reading it. Recently my oldest daughter started reading chapter books for school. She is home schooled so I enjoy having her read some of my favorites, mixed in with her favorites. We have spent a lot of time on www.littlehouseontheprairie.com looking up timelines and other things. Makes for great English and History class. She recently had a birthday and I could not wait to give her the Officially Licensed Little House on the Prairie 18″ Laura Ingalls Doll!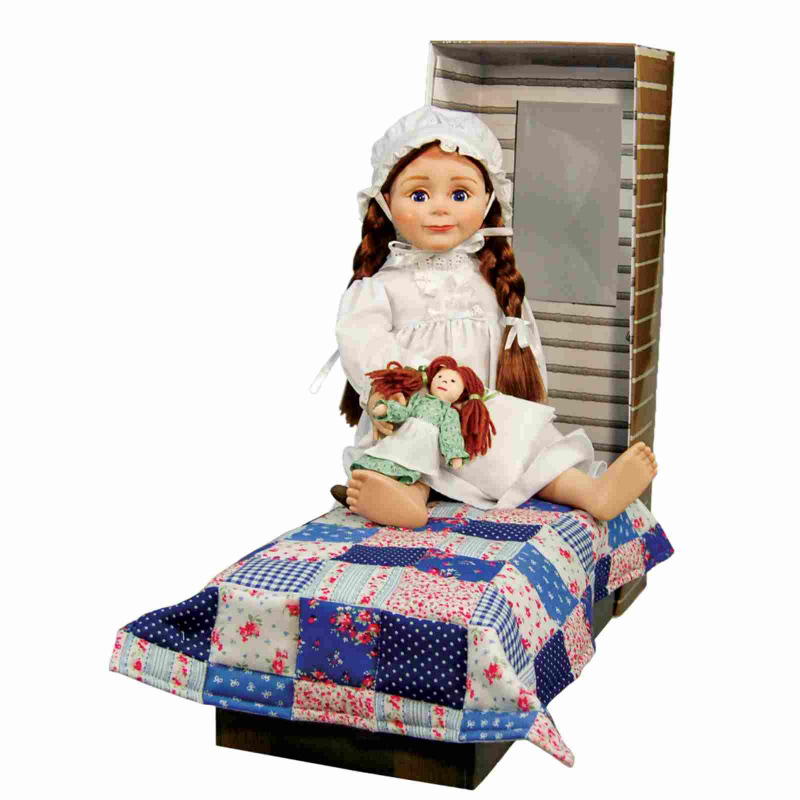 My daughter loved the doll. It is beautifully made with amazing detail. The eyes close when you lay her down, which makes for a fairly realistic feel. When my daughter sleeps, so does she! She has an adorable expression on her face and you can just see Laura Ingalls when you are looking at this doll. My daughters face told me how much she loved the doll as soon as she pulled back the wrapping paper. She did not even read the box and knew it was Laura, and that speaks volumes to me.
The box she comes in, also doubles as a bed for her to sleep in. She comes in a nightgown and cap with ruffles, a cute rag doll and a patchwork quilt. She is all ready to go to bed with you. It has vinyl shoulders and a body that is soft and soft and poseable. My daughter enjoys snuggling her and even started reading to her from Little House in the Big Woods. I imagine she will continue on through all the books at night. So for me that is a win, win!
This doll makes a great gift for anyone that enjoy the Laura Ingalls Wilder books, or loves the TV series. Gives them an excuse to read the books and play pretend. My daughter has always wanted a doll likes this, and it makes it even more special when she can not only snuggle the character she is reading about, but brings more enthusiasm in reading. Plus she really just loves this doll. I plan to purchase some more clothes for Laura from The Queen's Treasures in the near future, Christmas is coming!
Currently The Queen's Treasures is running a giveaway for this doll along with a ton of accessories including a horses and a wagon! It comes to a value of $805! You can find the Giveaway and all the details HERE and/or enter below! Good luck!
a Rafflecopter giveaway