Whether you're new to the coffee world or a veteran connoisseur, the art of coffee shopping even with all the conveniences of the internet can sometimes be tedious. Scouring multiple sites for the right combination of brand, blend, roast, and most importantly price can be a time consuming affair. And let's be honest. In today's fast-paced day and age, time is often the real commodity. Unfortunately, these factors alone can discourage coffee drinkers from really exploring new flavors and adding newness to their daily coffee routine. That's where a new coffee directory service called Quality K Cups fills the void, or cup.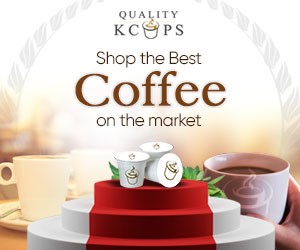 Quality K Cups is a one-stop shop for all of your coffee needs–from learning about different roasts to offering a superb
selection of k cups, single serve coffee pods, and brewed coffee. Not surprisingly, the site is made by coffee lovers for coffee lovers and aims to take the hassle out of coffee shopping by bringing together the rarest and most popular brands into a single place.
Enjoy a vast selection of Coffee
K-Cups and single serve coffee pods are the newest and most convenient home option for brewing your favorite beverage. So it isn't surprising that this inclusive coffee directory specializes in K-Cups and other pod offerings. But the site goes so far beyond that. Sure, they recommend and sell major pod brands such as Green Mountain, Starbucks, Van Houtte, and Tully's; but they beat the prices and selection of other favorite sites such as Ebay and Amazon. Looking for ground coffee or whole beans instead? Quality K Cups has a deep suggestion trove of the best options of "brewed coffee" as well in light, medium, and dark roasts as well as exotic blends and variety packs.
All brewers are highly rated-most obtaining four and five stars across the board, and the choices are impressive. Proven brands are listed such as Bonavita, Bunn, Capresso, Cuisinart, Hamilton Beach, Keurig, and Senseo. And prices run from $30-$250, so nothing's going to break the bank here. Whether you love your morning espresso, after dinner cappuccino, midday latte, or just black and bold, Quality K Cups has your perfect brewing system in stock at a price you can afford.
More than just a coffee directory, it's a coffee lover's resource
Quality K Cups is brilliant in its approach to educating and encouraging the appreciation of coffee. Not only is it possible to become a true cafelier, it's easy here. And it won't take hours of your time or continually pull you away from family or other important daily requirements. Spend a little time roaming around the site. Choose your favorite K Cups, pods, or bagged blends. You can also peruse the engaging content in the Coffee Lifestyle Magazine–written for coffee lovers and aficionados like you who just want the most out of their favorite beverage.
Visitors can sign up for their spam-free newsletter to receive the latest deals and coupons for their favorite coffee brands. For those looking to have a steady and constant coffee supply, Quality K Cups also offers a selection of highly reputable coffee subscription services. These monthly subscriptions will have your special coffee blends shipped right to your doorstep every month so you'll never unexpectedly find yourself without your morning cup of Joe. There are often severe consequences for not having coffee when you expect it….for you and those around you 🙂
To spread the love, Quality K Cups also hosts regular giveaways and contests where subscribers can win free cases of coffee from top brands such as Gevalia, Starbucks, and so much more.
Jam-packed yet easy to read with hundreds of coffee products, simple walkthroughs, invaluable content, and free giveaways… Quality K Cups is *the* place for true coffee fanatics. So what are you waiting for? Add new life to your daily coffee grind by exploring the endless coffee options available at Quality K Cups. http://www.bestqualitycoffee.com