Disclosure: I received Puro Sound Labs Premium Kids Headphones in order to facilitate my review. All opinions are my own.
My grandchildren love being on my phone or tablet. The only problem comes to when I need to concentrate on my work and all I can hear is ding ding or the sound of a Youtube video. With these Puro Sound Labs Premium headphones, I will know that their ears are protected because these headphones have volume limiting ear protection of 85dB. Volume limits over 85 dB are known to cause hearing loss over time. These headphones are also wireless so no wires!
About Puro Sound Labs Wireless Headphones for Kids
These headphones have the best sound quality that I have ever heard. They are made with 40 mm custom dynamic drivers. Puro recreates the best sound. the battery life is up to 18 hours. So music can be listened to on long trips and you will not have to worry about recharging. They also have 200 hours of standby which means an even better experience and convenient!
They are not only lightweight, they are also durable. Made of aluminum, the aluminum is used in the ear-cups and headband. This will ensure that the BT2200 headphones will last much longer than the competition that is made from clear plastic. These headphones also block out background noise. The soft ear cushion design will provide you with comfort while also mitigating 82% of sound at 1 kHz.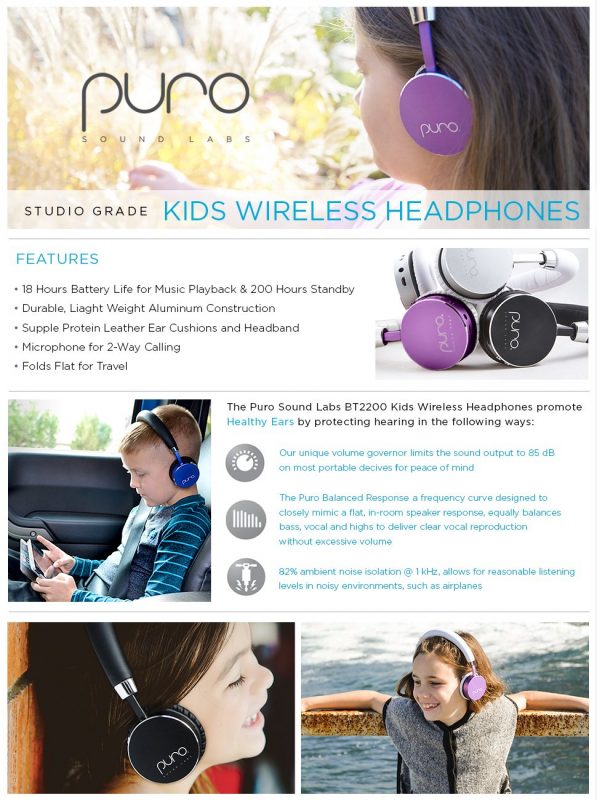 Why Did Puro come about with their headphones for Kids?
For the founders of Puro it is personal. In 2014 their founder, Dave Russell found out that his youngest daughter, Niki, had been diagnosed with noise-induced hearing loss. The doctors attributed this to her headphones that she wore everyday to school.
In America the hearing loss is a growing issue. One in five teens have some sort of hearing loss. This is a 31% increase since the mid 90s. The reasons behind this is that 50% of teens and young adults ages 12-35 are constantly subjected to unsafe levels of sound from their TVs and personal music players. That is roughly 1.1 billion teens and young adults worldwide.
Puro's headphones come in white, black, purple and blue. You can purchase these from Amazon here. (not an affiliate link).
Follow them on their social media: