Disclosure: We received our Budsies stuffed character for review only. All opinions (and love!) are our own.

Budsies are hand-crafted, hand-sewn (plush and soft) stuffed animals, creatures, people and more. Budsies (and partner products Petsies and Selfies) let you take something your child (or anyone else) has created and bring it to life.
While there are lots of reviews of kids' creations across the internet, Budsies aren't just for the young. Authors, designers, artists, and teenagers like our own Andy have been turning their creations into custom plush and stuffed characters too.
Andy's Budsies Design and the Ordering Process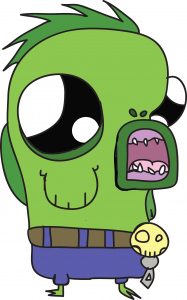 We were excited to bring one of Andy's creations to life, and while we were thrilled with the final result, the ordering and fulfillment process was pretty amazing as well!
First, Andy decided on the design he wanted, shown on the left. 'Fish Dude' eventually became Fishie or just Fish for short, and Andy has drawn different versions of him for years.
Then we went through the easy ordering process on the Budsies website. Of course we went through their info first, including some awesome reviews and a gallery full of imaginative plush awesomeness.
When we were ready to order, we just had to upload a scanned copy of the design, then go through the checkout process. During the ordering process, we added additional details, like colors and things important to the design. The wait was still hard – It normally takes up to 8-10 weeks for a new design to be created and shipped.
Waiting is so hard …
Handmade plush characters can take a long time to create. That's because they are hand-sewn, double-checked for quality, and generally made to live up to the creator's imagination (that's a lofty thing to live up to!). So while we hated the wait, we understood it was worth it.
The waiting was easier because of the multiple email updates we received. These included initial order updates and then specific ones, like "Selecting Fabrics and Drawing Patterns", "Quality Control" and finally a shipping update!
Connect with Budsies on Social Media!

The Great Reveal
If you didn't see it already on Instagram or by peaking below, then you might not know how amazing Andy's design turned out! And that would be a shame, because he was absolutely thrilled with it!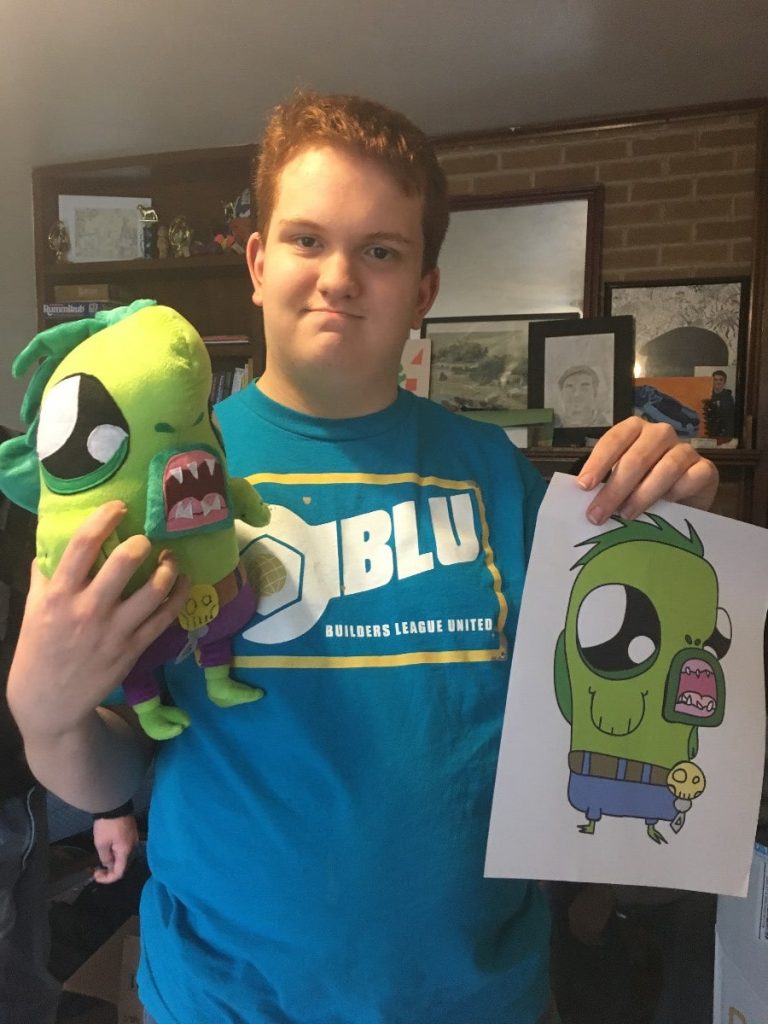 Andy and I noticed all the great details –
the belt and hanging sword
the fins(!), the huge forehead and nose
those eyes 😍
of course the little flippers for feet
even the kinda scary teeth
the mouth itself was a separate piece sewn on, replicating the way it stuck out in Andy's drawing
It was soft and oh-so-squeezable
Andy thought it was great and I was pleasantly surprised by just how well his design was copied. Andy's already hard at work deciding which one he wants created next!
Details and Fun Stuff
Something like this is usually expensive, but the Budsies are pretty reasonable in price. When you consider the level of detail, hand-sewing, quality control, multiple contacts about the process … the $99 price tag seems amazingly reasonable.
Their Selfies (stuffed characters created from a person's image) start at just $79, and they even have Petsies and Specialty options for more advanced artists and even more options.
Addons include super-sizing the creation, receiving a birth certificate (potential stocking stuffer or pre-gift surprise?), as well as a special in-process pre-finish photo. You can even add a recorded voice greeting to the Selfies, making that an even more unique one-of-a-kind creation!