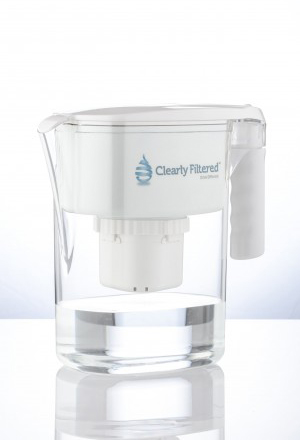 We are so concerned today about health, about our skincare about which chemicals we are consuming. Yet, how much attention do we pay to the one thing we intake the most – water? Yup, your water can have harmful contaminants and deposits in it too! That's why I love my Clearly Filtered water pitcher. Besides for improving the taste of my water, I can rest assured that I am giving my family only the best.
The Clearly Filtered water pitcher does not merely reduce the chlorine in your water, as most water pitchers will claim to do. It eliminates between 90-99.99% of various contaminants such as mercury, chlorine, lead, fluoride, and chromium 6. Throughout my pregnancy with my son, I tried to avoid mercury, lead and other harmful environments. Yet at the same time, I drank six liters of unfiltered (bottled) water daily, which contains these same poisons! I could have eaten more tuna fish! Never mind that it cost me a pretty penny…
"We aren't satisfied with the options people have when it comes to water. That is why we are committed to coming up with better solutions that will keep you healthy and wont hurt the environment in the process.

The truth is bottled water isn't good for our bodies, our wallets or for the planet. The faster we get people to realize this the sooner we can start considering better alternatives. Clearly Filtered can help make a positive impact on your health, your finances and our ecosystem. It's not the only choice, it's the best choice."
One of my favorite features of using Clearly Filtered is their easy to use and informative website. They include clear instructions for using the pitcher. They offer clear information of what you can expect from the pitcher instead of vague promises. To sweeten the deal even more, they have a VIP program, AND they donate a percentage of profits to charity!
Some Features of the Clearly Filtered Water Pitcher:
Filters last for roughly 200 gallons (or 300 pitchers full). Replacement is needed roughly every six months.
Approximate cost is $0.35 a gallon
Quick easy filtration that you can stick in your fridge for a cold, refreshing drink
ALL Clearly Filtered products are made from 100% BPA free, non-leaching Tritan plastic.
Easy grip handle makes it easy to pour.
Comes with a faucet attachment so that you can flush it out easily before use.
Long and narrow shape keeps it compact in your fridge so that it doesn't hog to much space.
Here is a chart that Clearly Filtered put together to show you how they line up against similar pitchers: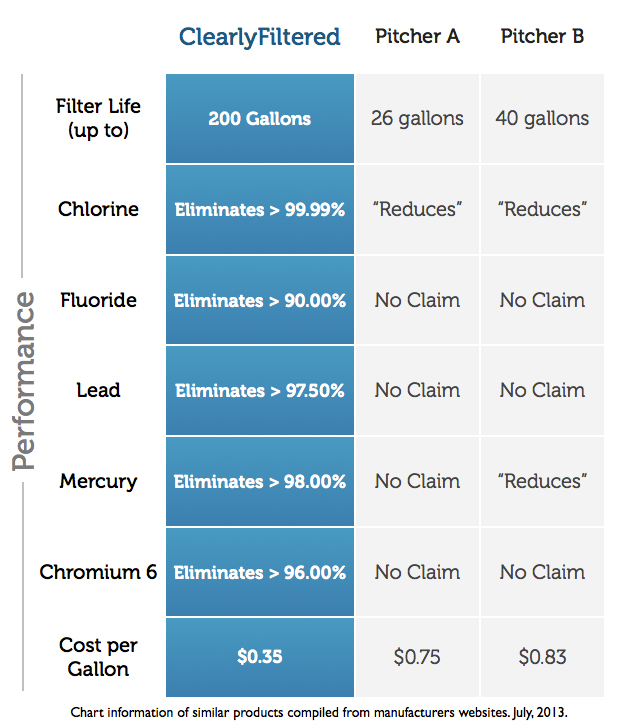 I am currently in love with my Clearly Filtered water pitcher. I drink more water and less junk because of the improved flavor. I know I am giving my family only the best. My only regret is that I did not have this while I was pregnant. I think it is a must-have money saving purchase for everyone!
Connect with Clearly Filtered:
Disclaimer: This product was received from the company for review purposes only. All thoughts and words in this post are my own and I was not paid to endorse it. I am only voicing my opinion about this product.