The BMXie-RS balance bike doesn't compromise: designed in Antwerp, a real BMX-styled bicycle frame, oversized tubing but extremely lightweight. Equipped with Airless RubberSkin Tires, which means a foam core so they cannot puncture; and an outside rubber layer that makes them just like real tires. Great grip, but no need to pump… ever! Also, a balance bike helps teach 2- to 5-year-olds how to coordinate their balance.
… and there is more! A super-duper cool design, adjustable seat without tools and a removable footrest. Need anything else? Maybe a detachable front number plate with various stickers? Got it! The BMXie-RS is probably the coolest balance bike in the world.
At Chillafish we don't take a market item and give it a little twitch to make it look like a Chillafish product. We design from a white sheet of paper and start from scratch. That's why this balance bike looks so much different from anything in the market.
Available in 5 bright colors, extremely light weighted, adjustable in height – without tools, detachable number plate & foot support, airless rubberskin tires – no need to inflate, age 2 – to – 5 years.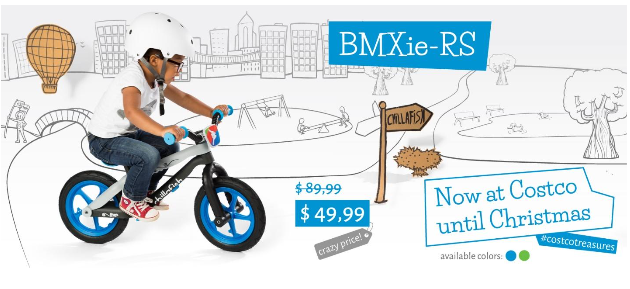 If you are looking for a perfect gift for your little toddler, then look no further, now is a perfect time to get a BMXie-RS balance bike!
Until Christmas there's an extra treasure hidden at your Costco warehouse:
CHILLAFISH' most attractive balance bike BMXie-RS, available in blue & green!! YAY!!
Buy one now before they are all sold – limited offer until Christmas. Hurry up and get your BMXie-RS at a discount of almost 50%!!
Available in-store at Costco for the special price of $49.99 each. For complete product details, visit here.
Not convinced yet?! BUY ONE BMXie-RS at COSTCO and GET a $5 CASHBACK NOW!
All info can be found here.