Imagine you are out doing errands with your baby. You haven't had a lot of sleep lately so things are a bit foggy in your mind and you have been feeling less than organized. Out of nowhere, you start to smell something and realize it is your baby. Your baby has decided that errand time is their time to empty their belly. You reach into your diaper bag and realize you forgot to pack the wipes. Now what?
What is in a Poop Happens Package?
(1) Natural Bamboo Baby Diaper, size small (6.6-17.6 lbs. / 3-8 kg)
(2) Natural Diaper Rash Cream Packet (5 ml/each)
(1) Bamboo Natural Baby Wipes Packet (10 wipes)
(1) Individual Bamboo Wipe
(1) Disposable Diaper Changing Pad
What are their Diapers made from?
What is in a diaper from Products on the Go? Only the best! These are ultra soft bamboo fibers which are highly absorbent. This helps prevent leakage. They are 100% Chlorine Free and unscented. You will not find alcohol or latex in their diapers and they are free of Phthalates with no additives. They are also hypoallergenic and naturally antimicrobial. This makes for a great diaper! If you do not believe me, you will have to order a few and see in person just how great they are.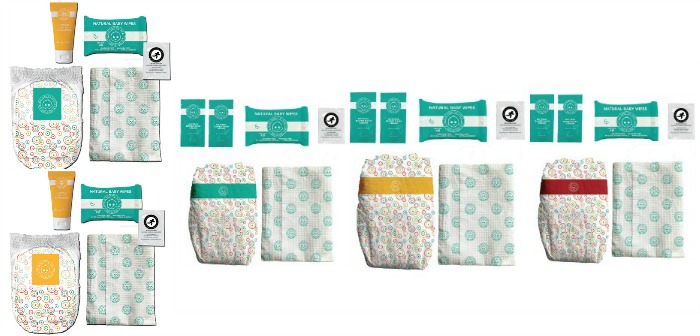 Products on the Go has the answer to your problem.
Products on the go offers "Poop Happens" complete diaper change products. These are neat little packages that make sure you have everything you need for one complete diaper change in one convenient zip-close pouch that goes with you anywhere and everywhere. You can easily pack them in your diaper bag, purse, carry on when flying, or the glove compartment of your vehicle.
Less stress and more happiness, it's in the bag! Poop Happens includes the following natural and eco-friendly products.
These come in 3 sizes, Small, Medium and Large. They also offer them for different styles such as Swimmy Style, Lotta Poop, and the Weekender Deluxe Jetpack which are all prepackaged full change diaper sets.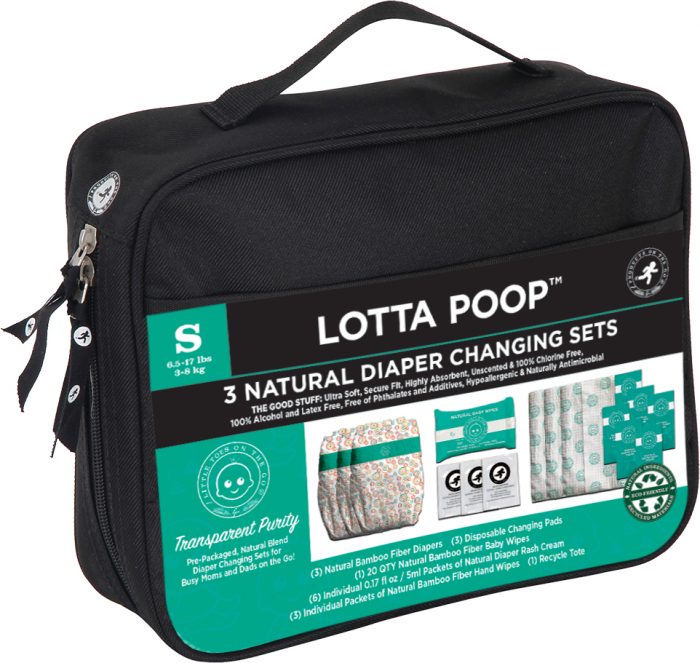 The Lotta Poop comes in a recyclable reusable bag or a vacuum packed recyclable disposable bag. You can also get them in a prepackaged Jet Pack Weekender which includes 12 natural prepackaged sets, an educational stimulating toy, and a bottle/sippy cup.

You can see what comes in each of the packs above by visiting the Bamboo Diaper products area on their website.
About Products On the Go the Company
This is a company that has put together eco-friendly, natural and or recyclable prepackaged sets. They pride themselves on being a solution based company. They love to work closely with their consumers to create the perfect buying opportunities which are tailored to their buyer's needs in mind. Although they are a newer company they have been receiving a great response from those that have seen their products. They are really looking forward to having their prepackaged natural sets sent right to your door.
They are interested in finding out what their consumers' needs and lifestyles require in 2017 and want to tailor their products to fit that demographic. This is what sets Products on the Go apart from their competition.
Due to the great reviews and demand for their diaper sets, they are coming out with a 36 Count bulk diapers. Make sure you start going into your major retailers and ask them to carry these wonderful sets and Bulk Bamboo Diapers.
Coming to you soon, options of home subscription as well!
You will try them for the convenience but love them, because of the quality of their natural products.
Use Code: MOMMYB17 to get 30% off + free shipping. on your order!
Make sure you visit Products on the Go on their Social Media
Facebook | Twitter | Instagram | Website
Life Made Simple With an Extra Set Of Happiness. You can say They have you covered.