Just because you are over the first year doesn't mean that baby wipes still won't come in handy. If anything, you may even use them more. As your baby begins to explore his or her world and get into more things, you'll be happy you have wipes "at the ready. During that first year, wipes seem to be almost exclusively used for diaper changing. But, I am going to share with you 24 more uses for baby wipes, and many don't involve your baby.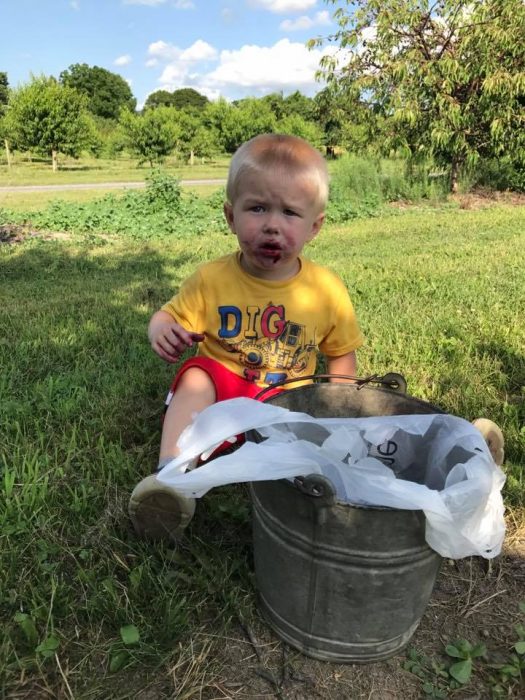 Cleaning Faces and Hands. If you invested in quality baby wipes you will find they are strong enough to clean even the worst messes. After we went cherry picking I was left with 2 grandchildren that looked like they were going to be stained forever. Luckily I had baby wipes on hand and they made clean up quick and easy before the stains kicked in.
Wiping Down Dirty Surfaces. You just found out your mother-in-law is stopping by for an unexpected visit. No one wants the house to smell like you just pulled out the arsenal of cleaning products, so baby wipes come to the rescue yet again. You can wipe down the bathroom, kitchen counter and more and she will never know that you just did the flight of the bumblebee.
Remove makeup from clothes. If you accidentally get some foundation on your clothes. Quickly grab a baby wipe before it sets and wipes it off. It works pretty much instantly.
Make-up Removal. There is no reason to purchase extra products to remove your makeup when you have baby wipes on hand. If they are naturally hypoallergenic and biodegradable, you do not have to worry about them hurting your face. If they are safe enough for your baby's skin, they are safe enough for your face.
Get rid off deodorant marks on your clothes. If you get frustrated with white deodorant marks, keep some baby wipes to hand. They will remove any white residue and leave your clothes nice and fresh.
Wipe away excess nail polish. Have baby wipes on hand when you're painting your nails, they can quickly fix any mistakes with minimal effort. They're also incredibly useful for cleaning the nail area pre-manicure and for giving a little extra moisture to cuticles.
Get rid of hair dye stains. If you dye your hair at home, keep a pack of baby wipes on hand to quickly clean up those drips and stains around your hairline and neck.
Tame flyaway hairs. If you have created a nice up 'do but have flyaway hairs then don't reach for the hairspray – take a wipe and gently pat down any hairs. Works like a charm. You can also tame unruly eyebrows.
Freshen up Your Pet.

From eye 'boogers' to dirty paws, baby wipes can help freshen up your pet. Since they are safe to use you do not have to worry about irritating them around their eyes and nose. Wipes will also keep their paws from getting cracked and sore; especially in the winter.

Remove excess tanning lotion. If you've been a bit heavy-handed with the tanning lotion, just go over the areas with a baby wipe. They also work wonderfully getting the 'stain' off of the palm of your hands.
Perfect for the beach. After a day at the beach, nothing feels better than a wipe down before getting back in the car to go home. Sand between their toes feels great while at the beach but not so much in other areas of their body. You can give them a good clean up until you can get them into the bathtub. They will also feel refreshed and probably will nap on the way home.
Sanitize those germ-ridden public spots. These are great to clean off the tray you use on a flight, use them for wiping down toilet seats, handles, public phones etc.
Clean your keyboard. Turning your keyboard over and giving it a good shake is a good way to get rid of any dust and debris, but you should also give it a deep-clean. Unplug your keyboard and use a baby wipe to clean in-between the keys. You'll be shocked at the amount of hidden dirt and gunk.
Clean grubby light switches. Light switches are touched constantly, and you might start to notice they've discolored. Give them a clean with a baby wipe and they'll look good as new. Plus you'll get rid of any germs laying on the surface.
Clean the outside of a fridge. Get rid of grime and mold on the handles and crevices of your fridge. They'll quickly lift off with very minimal effort, for particularly grubby areas double up. They are also incredibly useful for cleaning the outside of most kitchen appliances too, like your microwave, toaster and coffee maker
Get rid of dirt and mud from shoes and baby shoes. Use a baby wipe to quickly clean those grubby training shoes, sneakers or rain boots. You can wipe the sides and soles making them look like new again! You can also give leather shoes a quick wipe over to restore some shine.
Car Uses. The inside of your vehicle can tend to get dusty, especially during the dryer times of the year. You can wipe down the dashboard, armrests, steering wheel, anywhere you find that dust has collected. If you need to check the oil but do not have any paper towels on hand, they will wipe your dipstick clean.
Keep some in your gym bag. Use them to wipe down your gym equipment – treadmill, spin bike and more – and also use them to give yourself a quick freshen up for when you're not showering at the gym.
Secure letters and stamps. If you don't like the taste of envelope glue or stamps, use the end of a baby wipe to moisten the seal. It works wonders and will save you from any potential paper cuts or the aftertaste.
Clean a chalkboard. (I know they seem outdated but they are still used.) Teachers in the know use baby wipes to give their chalkboards – and whiteboards – a good clean at the end of the day.
Wipe your remote controls. This is useful especially if you are staying in a motel/hotel, or even in your home as germs can hang out anywhere.
Toilet paper substitute. We've all been there…scanning around the bathroom when your toilet paper has run out. Baby wipes are a good alternative every now and then. Also handy for recently toilet trained children and for when they need a little extra help cleaning up. Just don't flush them down the toilet.
Get to those hard to reach areas. Baby wipes are an absolute wonder product for cleaning those hard-to-reach areas where dusting rags just can't reach. Run a baby wipe along your blinds to catch any dust, or pull them through the slits in your garden chairs.
De-grease frying pans. Wipe excess grease from frying pans and deep fat fryers before putting them into the sink for washing. They work absolute wonders in getting rid of grease so you can wash them up with minimal effort.
As you can see there are many uses for baby wipes. It would make sense to buy travel packages to keep in various areas so you will always have them on hand. Bamboo wipes are a great kind to purchase as they are naturally hypoallergenic and biodegradable, free of chlorine, alcohol, paraben, and perfumes. They are also pH balanced. Little Toes have the perfect bamboo baby wipes, which you can purchase on their website.
You will try them for the convenience but love them, because of the quality of their natural products.
Sign up for Little Toes by Products on the Go 'Insider Guest Registry'
Signing up for the Insider
Guest Registry
will enable you to receive promo giveaway offers, coupons, sweepstakes offers before the public is told about it.
Another great benefit of the Insider Guest Registry', is that you will receive monthly parenting tips, from Dr.Sharon, who is not only the Founder of POTG, but who is also a Distinguished Clinical Psychologist, award-winning author of books on parenting, self-development, and an expert on topics of family and marital psychology.