Every year I come across so many cool apps that I myself have downloaded and used. Now this will be another app I'll add to my collection,it's called the Plow-and- Mowz app.
Let me tell you more about this app and why you too should download it. The PLOWZ is a snow plowing app that lets you order a plow anytime, anywhere, when you need it. While MOWZ is a lawn mowing app that lets you order a mow service anytime.
Pretty cool ha! With the way the weather's been especially here in MI this past winter the PLOWZ app definitely would have been put to use, Now that summer will be upon us soon why not be prepared with the MOWZ app right.
I'm telling you as a busy mom those simple task are sometimes over looked because of my schedule. I also won't have to worry about my lawn or driveway when my husband is traveling.
PLOWZ -and –MOWZ can be set up just with a click of a few buttons on my smartphone, how convenient!
The company isn't even a year old yet but I'm sure with their great on-demand snowplowing and mowing services they'll get lots of business without a doubt. The idea was created by two Syracuse grads in November of last year.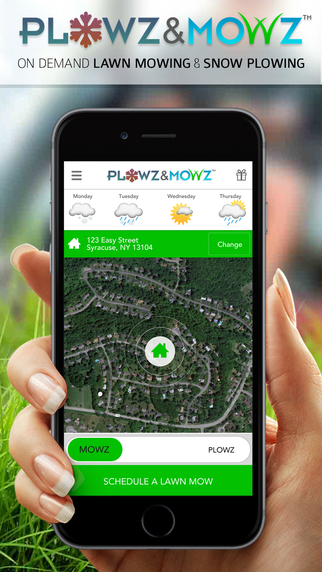 The app is pretty simple to use, just add all your required data like name, address, driveway size, etc, tap the schedule A Plow button, inform them of time you need it done, sit back and wait for the plower to show up. Before you know it they are there taking care of all your lawn or snow needs.
Once the job is completed, PLOWZ automatically bills your credit card. You don't have to stand by the door waiting for completion because they'll also send you a picture of your cleared driveway. You can review this from anywhere along with being able to verify the service was satisfying.
The MOWZ app functions in the same manner but instead of plowing someone will show up and mow your lawn for you. Wow, can you imagine sitting back with a glass of lemonade on your porch watching someone else taking care of all your driveway or lawn needs? Love this app!!
Each one PLOWZ and MOWZ are now available in 34 US cities and the company hopes to expand nationwide soon.
You don't have to wait, you can download the app here at iTunes to have it already installed on your smartphone.
Remember compatibility: Requires iOS 6.0 or later. Compatible with iPhone, iPad, and iPod touch.
You can connect with Plowz -and- Mowz via Facebook | Twitter | Pinterest |