Making the decision to get a new king sized foam mattress for my bed wasn't one I took lightly. I did some research and considered all of the possibilities. When I started out, I had NO idea how many mattress companies there are or how many options are available.
Through that research, I discovered Somzi Foam Mattress. They're relatively new when it comes to mattresses but a study of their website Somzi.com showed me that they take the comfort of each customer seriously – from the design of the mattress itself to the quality of the materials that are used. From that discovery, it became an easy decision to order my new foam mattress and I haven't regretted my choice a bit.
Here's my Somzi mattress review: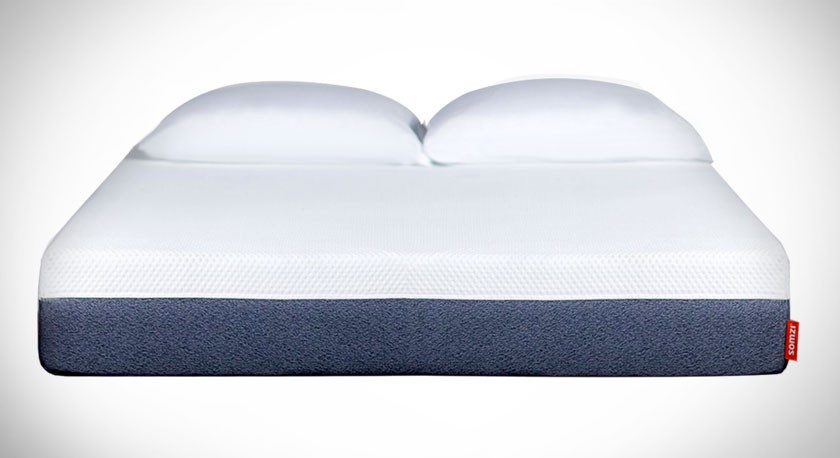 Construction of the Mattress
As I mentioned, the quality of the materials that are used in the mattress makes a great difference in the comfort level of the bed. I used to find myself waking with a stiff neck and sore back but ever since I received my Somzi mattress, I wake up refreshed thanks to the deliberate makeup of the bed itself.
The mattress is made up of 3 layers, each with its own purpose, all working together for the good rest of the sleeper. The layers include:
Support Foam: a foundation for the mattress is a 6″ layer of support foam, with such a focus on support and stability that it comes in at a rating that exceeds the industry standard for mattresses. This support layer is durable and made to last – a fact that my budget and my formerly aching back appreciate!
Serene® Foam: the 2″ of trademarked Serene® foam works to control the air found naturally in its micro-cells. This action relieves the pressure of the mattress, distributes any heat trapped in the foam evenly, and allows the sleeper a more comfortable rest as they lay in the bed.
Memory Foam and Gel Swirl: the top layer is 2″ of gel swirl memory foam that provides an additional level of incredible sleep. The gel swirl acts as a coolant rather than trapping your body heat, increasing your comfort and giving the best sleep of your life. (At least, that's how it's been for me since the first night in my Somzi!)
Removable Covering: a bonus feature is a luxurious micro-weave removable covering that makes keeping your mattress like new, long after it isn't.
Things that Have Amazed me About Somzi
To be honest, there are many aspects of my king-sized Somzi quality foam mattress that have amazed me. I'm definitely a fan for life – and here are some of the reasons why:
Easy Setup: Never before have I had a product deliver so perfectly on what it promised in the 'easiest setup ever' department. When my foam mattress arrived at my house, it was in a cardboard box, a smaller than I expected sized cardboard box at that. I opened it up, found a tool to use to slice open the outer protective covering. From there, I was able to unroll the mattress and watch as it expanded to the correct size. Once on my bed frame I was able to easily remove the plastic on the inner layer, make a slight adjustment to the placement – and the setup was complete. Easy setup, indeed!
100 Night Trial: There aren't many products these days that offer a no haggle return policy. But Somzi continues to amaze me by doing just that through their 100 Night Trial policy. Once I had the mattress in my home and tested it out, if I changed my mind about my purchase within the first 100 nights I could return the foam mattress to them at no additional cost, with no hassle. The fact that I have no desire to return it doesn't make this trial period any less amazing in my book.
History in the USA: Knowing that Somzi has more than 125 years of experience making bedding products, with all of their work completed here in the U.S. I am proud to support this company that obviously employees people in their own neighborhood.
So, that's my Somzi review. If you are looking for a new memory foam mattress and have never heard of Somzi, go check out their website somzi.com. I highly recommend their product and am confident you will be just as amazed as I have been.