You know the joy on our children's' faces while opening their Christmas presents?
Well those are the same emotions Peek-a-boo Baby Game captures and preserves!
For small Children/Toddlers:
Peek-a-Boo Baby Game from the child's perspective is an easy to understand Peek-a-boo game that takes place living room setting. The child will get to the game in one tap possibly with the help of the parent. In the game room the child can play Peek-a-boo with an avatar as well as examine different objects in order to improve cognitive skills, learning and have fun. The child will learn several colors, as well as practice cognitive skills and motor skills.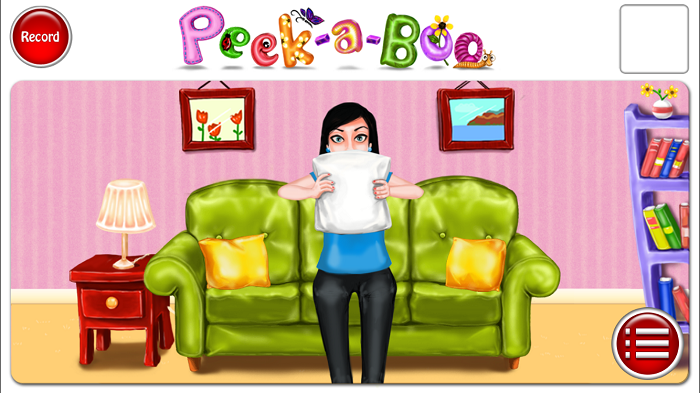 For Parents:
Peek-a-Boo Baby Game from the parent's perspective is different. A parent have access to the parents section which is protected by a parental gate. There you can change avatar appearance and Peek-a-boo sound, as well as manage videos taken in the game area. In the premium version parents can also add their own avatar face and Peek-a-boo sound making it possible to make the avatar look and sound like mom or dad. Imagine the child's reactions when he/she sees and hears you under the pillow in the game play screen!
In the game screen you can press a video record button ("Record"). This button will capture the child's facial expression and sounds made by the child during game play. 20 seconds are recorded. After the game a video is made by the game showing the child and the game play side by side. So now you can watch and listen to the child's reactions of the game play. Videos are of course shareable through social media such as Facebook and Youtube, making it possible to share your child's joy and laughter with your loved ones.
Peek-a-boo Baby game is free but with occasional ads in the Parents section. There is also a Premium version available that opens up the possibility to add your own face and Peek-a-boo sounds to the game. The premium version also removes all ads.
Future versions:
According to the developer more content such as more game rooms is planned for the game in future updates.