Tis the season for gingerbread house fun! I don't know about you, but gingerbread houses and I haven't always gotten along… How many times has it happened to where you've created the base for your gingerbread house but somehow those walls still fall down…so frustrating, right? I felt this way UNTIL I discovered this amazing Paw Patrol Gingerbread house kit!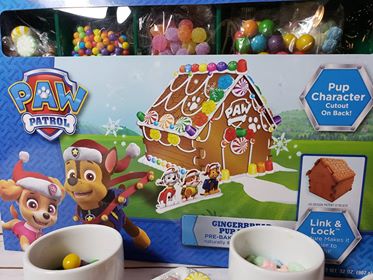 The good news is that Bee International has created a way that will forever change how you want to build your own gingerbread houses. They've created interlocking panels (patented Link & Lock design) that makes certain those walls click to stay! Talk about a breath of fresh air! Not only do they save time and effort, but it also takes a load of stress off as well because you no longer have to worry about your house tumbling down! I for one will never use any other kit, ever.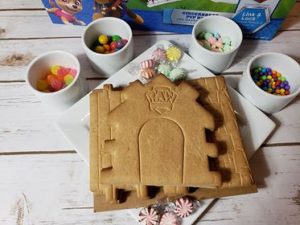 Paw Patrol Gingerbread House
The great thing about the Paw Patrol Gingerbread house is that literally EVERYTHING that you need is included. From the interlocking Gingerbread house panels to the assorted candy and the premade icing, once you open the box you are ready to go.
You can also vary in the design of your gingerbread houses with candy options and choices such as NERDS, SweetTARTS, Runts, and Bottlecaps – even Tootsie Rolls! The candy decorating options for your gingerbread houses can be endless!
While this kits can be ordered online, they are also available in stores nationwide as well. Check out your local grocery and supermarket stores to grab your very own Paw Patrol Gingerbread Kit. With prices starting at $9.99 per kit, these are an affordable way to have some true holiday fun!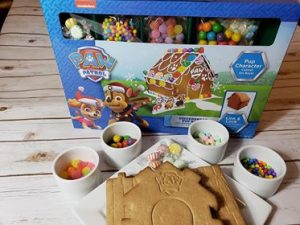 Don't forget to follow us on Facebook and tag us in your latest Paw Patrol or candy Gingerbread house creations! @BeeInc70 would love to showcase your gingerbread houses! For even more social media fun, don't forget to add the hashtags #gingerbreadhouse, #SweetTARTS, #TootsieRoll; #PAWPatrol, #NerdsCandy #RuntsCandy and #Link&Lock
Bee Inc has been generous enough to offer 3 Lucky Mom Blog Society Readers a chance to win their own gingerbread house kit. For your chance to win, simply enter via the Rafflecoper below.
Disclosure: Mom Blog Society was compensated for this editorial Regardless, all opinions are our own.