Treat your dog to a healthy, Happy Halloween treat—Old Mother Hubbard Creepy Crunchers "Old Mother Hubbard Creepy Crunchers"! Natural mini skeleton bone shaped biscuits are a spooktacular way to celebrate the season with a taste of Peanut Butter & Molasses.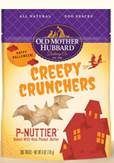 This year, Old Mother Hubbard is hosting the #CreepyCrunchers Dog Costume Contest! From now until Halloween, submit a photo of your dog in costume for a chance to win a year's supply of Old Mother Hubbard dog treats! Enter the contest here Enter the Contest Here. You'll even get a coupon pack from Old Mother Hubbard just for entering (while supplies last)!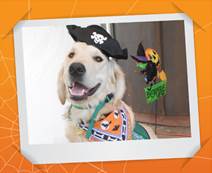 You can also enter the contest by posting to Twitter or Instagram!
Twitter: Tweet photo with hashtag #CreepyCrunchers & @OMHDogSnacks
Instagram: Tag your photo with hashtag #CreepyCrunchers & @OldMotherHubbardDogSnacks