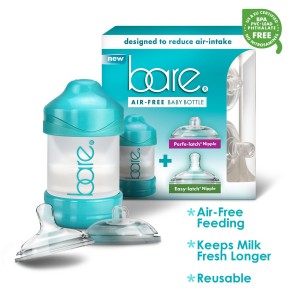 Whether it's because mom needs to go back to work or just wants a break, every breastfeeding mother comes to a point in her feeding journey where she will need to give her little one a bottle. There are many things that nursing mothers worry about. One of the major things is nipple confusion. One of the first things you're told when you decide to breastfeed is " Don't give your baby a binkie or a bottle. They will get confused and not want to go back to the breast." The worry is that the baby will "forget" or become "confused" about the breast nipple and the bottle nipple and choose to only use the bottle or nipple.
But every new mama needs a break once in a while. As a mom who has breastfed as long as 18 months, I can tell you I just needed to let someone else feed the baby from time to time. I found that dad really wanted that bonding time and I enjoyed being able to take 15 minutes to myself. This is when choosing a bottle is so important. You'll want one that baby likes and you'll want one that is the best at simulating the breast. This will make the nipple confusion well…less confusing. I've been introduced to an amazing bottle designed for breastfeeding moms to make transitioning from breast to bottle easy as can be.
TIP: When trying to choose a bottle for your new baby, don't buy a whole bunch of the same kind of bottle. What works for one baby may not work for another. What one baby likes, one baby may hate and never use. Buy one bottle of each brand you like, then once baby is here let them decide what one works best for them.
Now let me tell you about this amazing bottle from Bare® . Bare Baby Bottle w/ Breastfeeding & Bottle Feeding Nipples is designed to make baby get a good latch and pull the nipple out while feeding. Just like they would with the breast. It helps promote a good latch, which is so important when you're just starting your breastfeeding journey.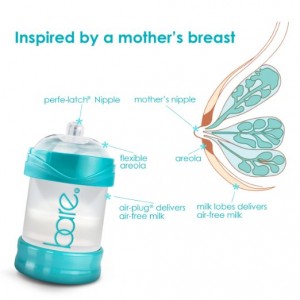 Air-free Technology
Benefits:
– Helps Prevent Colic & Gas
– Keeps Milk Fresh Longer
– Encourages Proper Feeding Posture
– Promotes Self Feeding
– Stimulates Bottle Weaning
– BPA Free
Perfe-latch® Nipple Supports & Promotes Breastfeeding
Benefits:
– Bare's components are designed to be sterilized and reused hundreds of times before needing replacement.
– Leak-proof
– Dishwasher safe
– Flow-Control® technology: different size orifices on the tip allow baby to control feeding pace and flow
– Packaged with 4 oz Bare Bottle, Perfe-latch & Easy-latch Nipple
– Perfect baby registry gift!