Nexia is a great application. We use it all the time. This way we can turn our air conditioning up when we leave, and have it back down 30 minutes before arriving back home. This is a superb idea, and I wish I would've come up with it. My thermostat is a smart thermostat, which makes it easy to connect Nexia. This was the easiest program to use.
My husband loves Nexia, and wonders where it was even 5 years ago. This way we are saving on electric, and our bill is not nearly as high every month. You know, in the summer the bill can get out of hand, when you are running your air conditioning, well not anymore.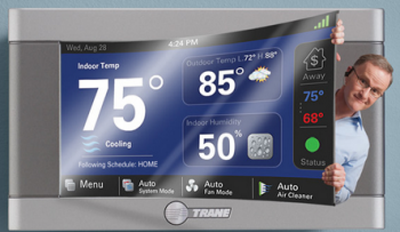 There's even a program, that for $9.99 a month, you can stay connected. This is so amazing. I am definitely staying connected.
I've never saved so much on my electric before, making it easy to put that money toward another bill.
My mother in law is so jealous that we have Nexia, she is ordering it off of Amazon soon. She can't wait to start saving on her energy bill as well.
I love that it tells me the outdoor temperature, as well as my indoor temperature. This is amazing. I remember when we used to have a special clock to do that. No more, we have it all in one place.
My in laws recently bought a Trane system, so this is perfect for them. They purchased it within the last two months, so now they know about the Nexia, and are getting it too.
Nexia is made by Trane. And is definitely a great product. I don't know what we did before Nexia Home Intelligence. This is a great product to have, and if you don't order, and install it, you are missing out.

Ok, I've talked a lot about the product, above, but they also have one that alerts you when your kids get home, if you aren't there too. I love these Nexia products.
Connect with Nexia: Shop | Facebook | Twitter
Disclaimer:
This product was received from the Company for review purposes only. All thoughts and words in this post is my own and I was not paid to endorse it. I am only voicing my opinion about this product.