Don't worry help is on the way- from Denmark to your living room!
It's time to focus on you. Being a mom is a 24/7, 365 days a year job, and sometimes it's easy to forget to take some time for yourself. You start pushing aside things that were once the center of your attention. Life all of a sudden surrounds your new addition to the family, and as cute as your little girl or boy is, self-care can get left behind. Giving yourself a little TLC is important, so take a moment to indulge in something that makes you feel beautiful– like hair care.
It's a fact that 40 percent of American women will experience hair loss and thinning by age 40. For many women the onset of hair thinning begins post pregnancy when our body is experiencing great hormonal change. For some new moms, hair loss or thinning is just a temporary condition that passes in a few months. For others the problem continues. Sometimes people view hair loss as a taboo subject to talk about, but it doesn't have to be! Many women around you are experiencing the same thing – 21 million women to be exact.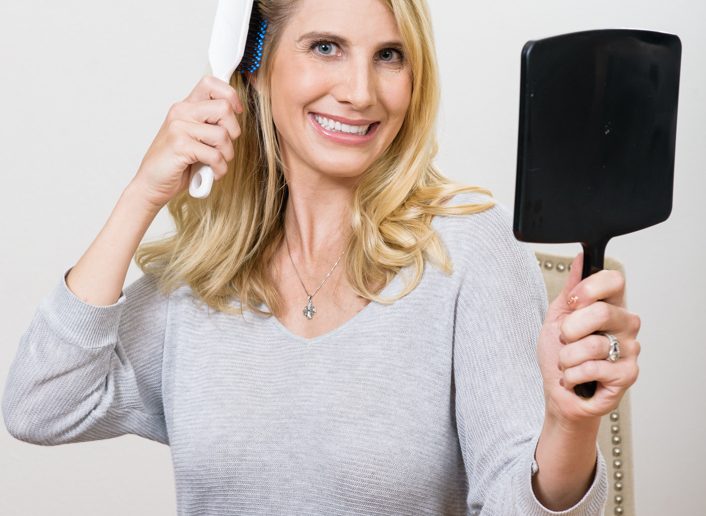 Motherhood causes stress, affects your sleeping habits and overall pattern of life. These factors, as well as childbirth itself, have a large impact on scalp health and hair loss. This can be a scary time, we understand, and we're here for you.
Since 1979, Danish-born Harklinikken has been Europe's brand leader in hair regrowth treatment due to the unprecedented it has obtained for 100,000 happy clients. Now, Europe's brand leader in hair regrowth is available in the US! When it comes to hair loss, there is no age discrimination. It can happen to anyone at almost any time. Harklinkken, as recently recognized in Vogue, Town & Country, Family Circle and Marie Claire, treats thousands of moms of all ages experiencing post-partum hair loss and thinning with unsurpassed success.
Harklinikken is a simple in home two-step hair restoration process that includes application of a customized Extract at night and then shampoo it out the next morning with special Harklinikken shampoo. Typically, clients see results within four months and obtain 30% improvement in hair mass, with many realizing 50-75% more hair.
Life can be stressful, but haircare shouldn't be. Make some time for yourself. Take Harklinikken's free online assessment at www.harklinikken.com to find out if you are a candidate for treatment. Mention code hair1 and receive $30.00 off your startup costs!