Momcozy, the number-one-selling wearable breast pump brand in North America is best known for its, well… breast pumps. But recently the mom care brand has launched video baby monitor to expanded its product offerings.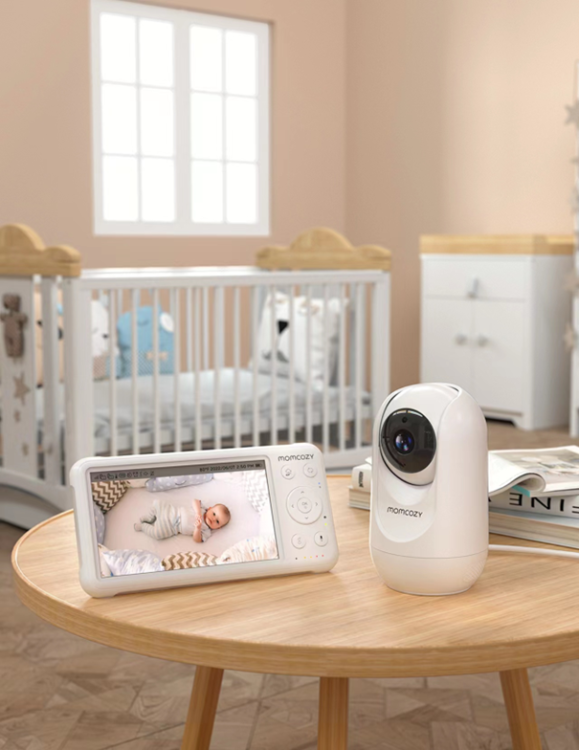 Momcozy video baby monitor | Photo source: Momcozy
Featuring 1080p full HD camera, a 5" large clear display, 2x and 4x zoom capabilities, a non-wifi and hack-proof system, 360°all-round field of view, and a rechargeable battery that lasts 11.5 hours, Momcozy's video baby monitor gives parents peace of mind while making their jobs easier and smarter. It is the perfect way for new parents to feel reassured when they can't be around their baby 24/7.
Any parent reading this knows that as their work and home lives become more complex, its harder for them to keep their little one in sight at all times. Furthermore, the cost of daycare is rising, making it increasingly difficult for parents to afford. In light of these challenges, a high-quality baby monitor can be a great help, offering peace of mind and potentially preventing accidents or injuries.
So what's so special about Momcozy's BM01 baby monitor? Let's take a look.
Parents can stay connected with their baby in crystal clarity, from anywhere in the crib, and in the home
Featuring a 1080p full HD camera, a 5" large clear display, 2x and 4x zoom, and 360° all-round field of view, you can now have a crystal-clear and detailed view of your child in their crib. Not only that, but this monitor also has a wireless range of up to 960ft, enabling parents to keep tabs on their baby no matter where in the house they may be. Moreover, this monitor also allows for two-way communication, so you can soothe your little one with your voice when you're not around.
Peace of mind for both baby and parent
With six soothing lullabies built-in, you can rest assured that your little one will drift off to dreamland in no time. But Momcozy video baby monitor it isn't just about helping babies get to sleep – it also has a 5000mAh rechargeable battery that can last up to 11.5 hours (Display on + voice on), a VOX voice control trigger system that provides real-time feedback, and an alarm function that will alert you if there's an abnormality in temperature or sound. How's that for peace of mind?
Keep your family's privacy secure
Protecting your family's privacy is a top priority, and that's why the monitor's non-wifi, hack-proof monitoring system makes for an ideal choice. The system use frequency-hopping spectrum (FHSS), which prevents hackers from remotely accessing the camera or microphone.
Additionally, the baby monitor uses peer-to-peer communication, which means parents will not suffer from the time delay that often occurs with WiFi models.
Smart and uncomplicated to use
Momcozy's video baby monitor is the perfect combination of smartness and simplicity. Setting up the monitor is a breeze and it can be used in two ways: wall-mounted or stand-alone. Plus, it's small enough to fit in your pocket, making it a great choice for busy parents. With Momcozy's baby monitor, you can have peace of mind knowing that your little one is always safe and sound.
In conclusion
Momcozy's wearable breast pumps have been a great success in relieving the stress that modern moms experience while breastfeeding. With crystal-clear video capabilities and a wide range of other features, the baby monitor is certainly a smart choice for parents who want to feel secure and relaxed.
Rather than being an exhausting parent, let smart products make your life easier.
Check out Momcozy video baby monitor at its website.