During childhood we start to develop habits, and as parents we want our children to build positive habits that will stay with them through their lives. While we can't control everything our kids do, we can try to set them up for success by giving them the right tools to make positive decisions and pursue their passions.
Most of us would also agree that we want our children to become kind hearted and grounded individuals who contribute meaningfully to society. We show our kids how to share their toys, speak politely, and abide by good manners at the table – all in an effort to help them develop positive and respectful habits. Another way to do so is to engage our kids in acts of kindness and giving back from a young age. Science actually shows that engaging in good deeds and altruistic behavior directly relates to living a longer and less stressful life.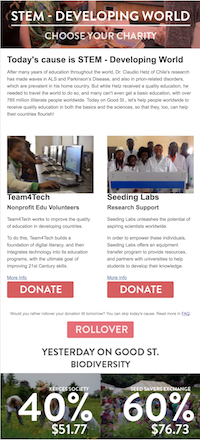 And thankfully there are tons of ways to get your kids involved in thoughtful behaviors and small acts of good using technology. One of those ways is through Good St: Good St. is an online giving platform that keeps your kids (and you!) engaged in giving back every single day. How it works is simple: sign up to give 25¢ a day to charity. Every morning you receive an email that features a cause of the day and two charities addressing the cause in different ways. Read the short email and educate yourselves and your children about a new important cause every day. Then, simply click on the charity you want your 25¢ to support that day!
After you click you'll also be prompted to engage in small deed – so the giving mindset carries with you the rest of the day. While we each are only contributing a little, as a community we are giving significant amounts to charity every day and showcasing how Small Change can create Big Change! You can also see the effect it has on your own life: Good St. aims at making giving into a daily habit and having that small act in the morning set the tone for the rest of your day. To date we've already directed over $105,000 to charities across the globe.
Make a Choice
With Good St.'s interactive daily email, you and your children can learn about causes you may not have heard about and can make a difference. Every morning, you'll receive an email (like the one above) and will be prompted to choose which charity you'd like to direct your daily amount. Forgot to open the email one day? Don't fret! If you don't actively click one of the donate buttons, we'll split your daily donation up based on how the rest of the community gave. If you aren't particularly passionate about a certain cause, you can always 'roll over' your daily donation to the next day.
See the Change
Good St. is all about highlighting the power of the collective: how much change we can facilitate when we come together as a community. After you direct your daily 25¢, you can see how the rest of the community is giving as well. It's super important that our members can actually see the difference they are making on the charities we support. Because of that, we constantly share impact stories that highlight how our donations are being used to create real change across the globe.
How Do I Start?
We built Good St to make is super easy to make a difference. To get started join us at goodst.org! You can sign up for a monthly plan to give either 25¢,50¢, or $1 a day. That's it. You'll start getting the daily emails every morning. Read it with your kids at breakfast, on the way to school, whenever! Once you start giving, you'll be a part of creating significant change in the world and your own lives. Questions? Feel free to email [email protected] any time.
Good Street is a 501(c)3 nonprofit. Learn more about Good Street at goodst.org. Catch them on Facebook, Twitter, Instagram, & Snapchat @good_st.