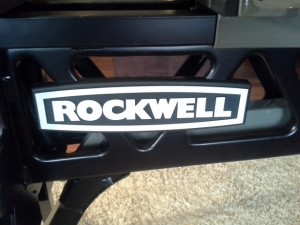 Rockwell has long been a name that stands for quality. They have made Rock Solid tools that are Rock Hard and when the going gets tough, they Rock On and On!
This year I have had the pleasure of using the Jawhorse. Not exactly the sawhorse of your father's generation.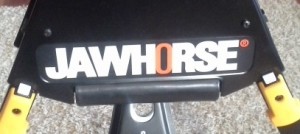 Right out of the box it is fully assembled.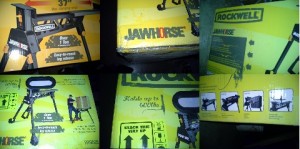 Raise the back leg and lock it into place by sliding it in and turning the knob…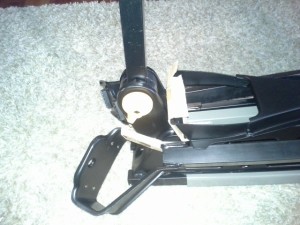 Raise the foot pedal until you hear it snap into place…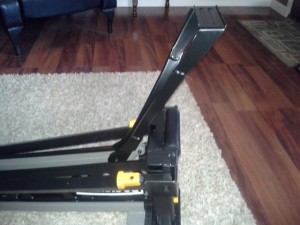 Then raise each of the front legs until you hear them snap into place.
And now it is ready to turn over and use it
The vise comes with zip-ties on it to keep it into place and you will need to cut them off.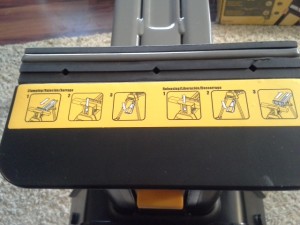 There are directions as how to use the Jawhorse:
Open the jaw slightly wider than your work piece
Push down the lock switch
Step on the pedal and your work piece is held in place for you to work on it.
When you are done:
Push up on the locking switch
Step on the pedal to release the work piece
And now you can slide back the jaws and remove the work piece.
It's that simple.
Depending on how hard you press on the pedal, the Jawhorse can produce over 2000 pounds of clamping force and support up to 600 pounds! Now that's a big enchilada!
And because of its clamping force and hands free operation, there is no need to have two. One does it all by itself. You no longer need two sawhorses, just one Jawhorse!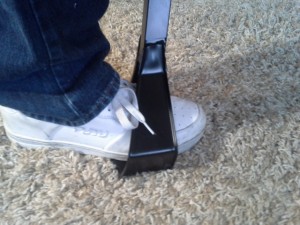 It also has stirrups that you can slide your foot into if you are concerned about it tipping over, and on the bottom of the stirrup is a hole so that you can nail it to a floor, support, or framework to hold it in place; or you can drive a spike into the ground to add extra support.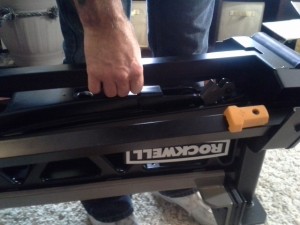 When folded up, the rear leg can be used as a handle to carry it,
And that same handle can be used as a handle to tow it.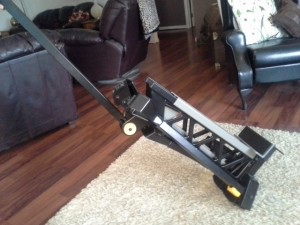 Rockwell incorporated a roller so that you can roll it to your work area.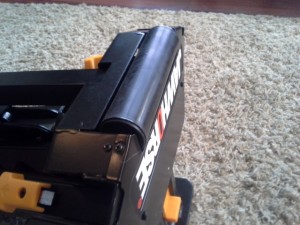 Obviously you can buy what you want, but if you want to work smart and not hard, this tool will help you get the job done easier than a couple of sawhorses and that's not all, it has accessories that will help you with more. There are welding jaws, extension jaws for wider projects, log and chainsaw jaws, a tool tray, and saddlebags to organize the tools you are using to get the job done.
I'm just about done interrupting your day, but to tell you the truth, I'm glad I have a Jawhorse. When I have to do some work, I just want to get it done as easily as possible.
So now you get to know how much Rockwell believes in their product. Would you think that a 1 year warranty is believing? How about 2 years? Well, Rockwell is backing it with a full 5 year warranty! Now obviously if you are throwing it off a 3 story building or out of a speeding automobile; cutting the legs off and welding new ones on, or beating it with a sledge hammer,… they aren't going to replace it, but if you are using it responsibly, it's covered and they will repair or replace it. How many companies give a 5 year warranty for a tool that is subject to be abused? Not many…
The next thing on my list is this bench vise: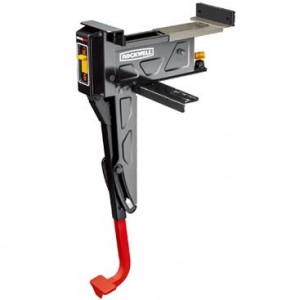 It uses the same technology as the Jawhorse vise action and makes it for your workbench. Still uses the same locking mechanism, same no-hands use, and the same rock solid manufacturing methods that makes Rockwell the name you have grown to trust.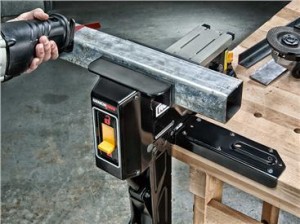 It can hold upt to 220 pounds in its mighty jaws and gives you over 2000 pounds of gripping strength.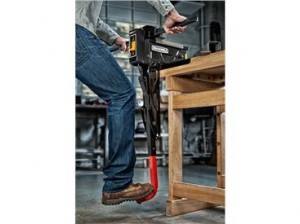 Foot activated so you can position it with your hands as needed. I'm sure I will be just as happy with this tool as I am with my Jawhorse. Do you know why? Well it has the same 5 year guaranty as the Jawhorse has.
If you ever use a vise or a sawhorse, my suggestion is that you take a look at Rockwell before you make a purchase.
I know I kind of sound like a commercial, but I think Rockwell did a good job in designing these tools and I'm glad I have mine. The only thing I would change on it is the screw knob on the back leg. I'm not sure what I would do to improve it, but for me it was a little awkward. But I'm not going to let that stop me from enjoying it and getting the job done as quickly as possible.
Very inventive on Rockwell's part to come up with something new that can help us out while working.
Thanks Rockwell…