Make Mom's Day with Spoonful of Comfort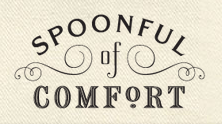 Mother's Day is almost here and unfortunately not everyone is close enough to spend the day with their moms. While a phone call and some flowers are the closest some people can get to sharing Mother's day with their mom, We have found a company that lets you send a little comfort of home to your mom!
We recently had the opportunity to work with a company called Spoonful of Comfort that is AMAZING! Spoonful of comfort allows you to send a care package and a little bit of home to your loved ones.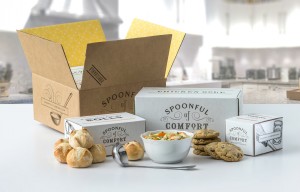 Spoonful of Comfort sent us one of their Thinking of You packages to review in our home free of charge. The Thinking of You package included a half gallon of chicken noodle soup, a note card, oatmeal raisin cookies, dinner rolls and a beautiful soup ladle. Everything came beautifully packaged. We made a special dinner with our care package last night and bought our hardest critics to the table, the kids!
The chicken noodle soup was amazing! Just like my mom and grandmother make. It is full of generous size pieces of chicken, carrots, celery, noodles and onions. It was extremely flavorful and the kids wanted seconds. The cookies didn't have an opportunity to sit. The kids and my husband had to try them right away. They were extremely soft and chewy and the kids had mentioned that they wished there were more. I loved the rolls. I toasted them for a short period of time so that they would be warm and a little butter was all they needed. I love that Spoonful of Comfort put in a special touch with sending the soup ladle. It is beautiful and goes perfect in our kitchen.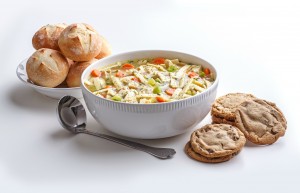 We are extremely satisfied with our Thinking of You care package from Spoonful of Comfort. It is the next best thing to being with those that we love and care about. Spoonful of Comfort has several different packages to choose from that range in price from $24.99 to $89.99. Right now, Spoonful of Comfort has a Mother's Day special. For just $74.99 ($95 retail value), Spoonful of Comfort will send your mom a 64-oz. boutique-wrapped jar of handcrafted chicken soup, 6 rolls for dipping and 6 yummy cookies for dessert! Gift packaged with their signature ladle plus a vintage style apron to serve it up right.
If you would like more information or if you would like to purchase Spoonful of Comfort, please visit the Spoonful of Comfort Website. Be sure to stay up to date on all of the latest news and products from Spoonful of Comfort by following their social media pages on Facebook and Twitter. While you are there, be sure to follow Mom Blog Society on Facebook.
Disclaimer: Mom Blog Society received product free of charge to write our review. All opinions stated in our review are our own truthfully opinion and were not influenced by the sponsor or from getting the review product free of charge. We were in no way compensated for our review or opinion.