Surprise Mom With Love Bottles for Mother's Day

If you are looking for the perfect gift that mom will cherish this year than look no further. Love Bottles make the perfect gift and help recycle and keep plastic water bottles out of landfills. Did you know that studies have shown that on average the amount of plastic bottles that is thrown away each day is approximately one per person? If 1,000 people were to use a love bottle instead of using a plastic bottle, the plastic bottle consumption would be reduced by 365,000 bottles a year.


Love Bottles are available for purchase in two different sizes, 500 ml (17 ounces) and 1000 ml (34 ounces). We recently had the opportunity to work with Love Bottle and review both sizes. One of my favorite feature about the bottles is that you can write on the bottles. You can write on the clear part of the bottle or the printed area of the bottle. When you use a permanent marker on the non printed glass area, it will come off the next time you wash it. However, when you use a permanent marker on the printed area of the bottle, it will last through the wash. I did notice that as time went by the writing began to fade and started to come off a little bit every time I washed it. Be sure that if you do not want the writing to come off, you take special care when washing the bottles. I highly suggest purchasing the funnel from Love Bottle. The funnel fits perfectly in Love Bottles allowing for easy filling with your favorite beverage.
You can also purchase fun accessories to personalize your Love Bottle such as extra tops, stickers and bands. We were also sent a pack of water crystal stickers that you can use for anything. The water crystal stickers retail for $10.00 and includes 28 beautiful stickers that come from Dr. Masaru Emoto's research, which shows that water reflects the intention of our thoughts and words when frozen. The stickers are approximately 1 inch in diameter. They are permanent and dishwasher safe. I have used the stickers on my cell phone, bottles and laptop.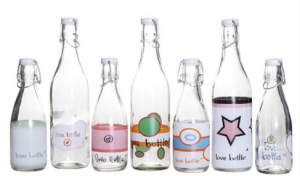 Love Bottle, Co. believe that every human being deserves the right to clean water. To help make this belief a reality Love Bottle has joined Global Water in their cause. A portion of Love Bottle proceeds goes to help this organization. To learn more visit the Global Water web site.
Love Bottle believes that clean water is a valuable and delicate resource that it must protected to ensure it is around for years to come. To help improve and protect our water Love Bottle has joined with Clean Water Action. A portion of Love Bottle proceeds also goes to this . For more information, visit the Clean Water Action web site.
If you would like more information or if you would like to purchase Love Bottles and accessories, please visit the Love Bottle Website. Be sure to stay up to date on all of the latest news and products from Love Bottle by following their social media pages on Facebook and Twitter. While you are there, be sure to follow Mom Blog Society on Facebook.
Disclaimer: Mom Blog Society received product free of charge to write our review. All opinions stated in our review are our own truthfully opinion and were not influenced by the sponsor or from getting the review product free of charge. We were in no way compensated for our review or opinion.