Head Outdoors for Spring and Summer Fun

BulbHead = Bright Ideas. Those kinds of things that have you saying to yourself "Why didn't I think of that?"
I received several really fun products from BulbHead, that I want to share with you today.
Woof Washer 360
First, since I'm a dog mom, dog lover, dog nut…I got a Woof Washer 360. This is pure genius. Hose down the dog, all the way around, all at the same time. I guess you could hose down your kiddos to, if you wanted. Get this, You add soap so first you wash and then you rinse. The handle has a pressure control so that you can determine just how powerful the jets of water are.
Polar Pooch Self Cooling Mat
For those hot hot days (which for us is from mid March through late October), I received a Polar Pooch Self Cooling Mat. Sometimes my dogs are goofballs and forget to come in when it really sweltering outside. That's when the Polar Pooch comes in handy. It doesn't require any refrigeration – it has a cooling gel that keeps it nice and comfy. I can keep it on the porch or in the car when we are traveling. Great for any size dog and wipes clean with a damp cloth.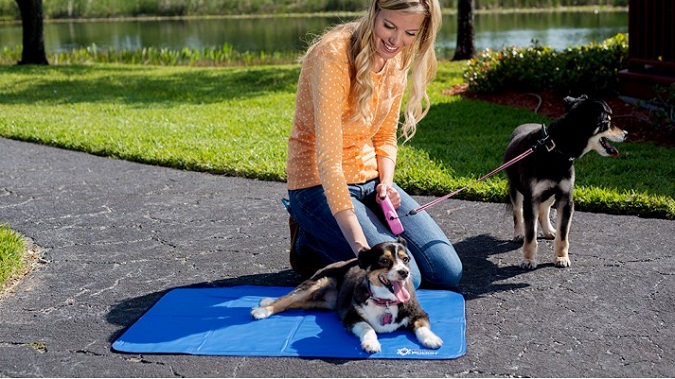 Battle Balloons Color Combat
Now it's time for the kids to play. Battle Balloons Color Combat is just the thing to keep them busy. The best thing…mom and dad don't have to spend hours and hours filling up and tying balloon after balloon. You fill (and they automatically tie) 40 balloons at a time. You get three sets of 40 in each box. Red * Blue * Green Just be sure to pick up all the broken bits of balloons after the kids have had their fun.
Fill and tie 40 color-filled water balloons in seconds. Just attach Color Burst to any hose and turn on the water. Color Burst is non-toxic, non-staining food color so it's completely safe and washes out of clothes.
Pocket Hose Top Brass II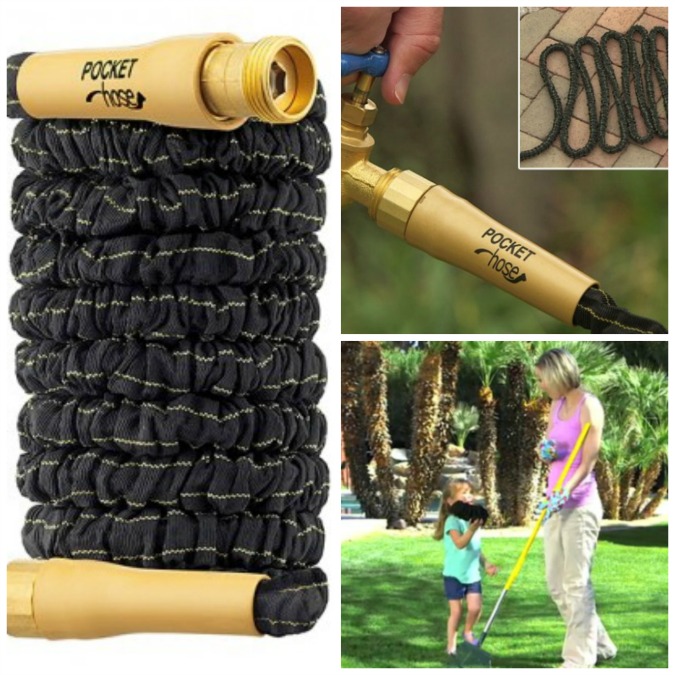 On those days when the kids aren't out back playing in the water, you'll need to water the lawn and plants. The Pocket Hose Top Brass II is the perfect hose as far as I'm concerned. We have purchased pocket hoses for all three of the faucets around our home. The Pocket Hose is a self expanding. "The leak-proof hose is made with new Dura Rib Technology". When you turn off the water, in contracts down to it's original size. This makes it easy to store (we just keep them in clay flower pots at each faucet), and since they are so much lighter, they are easier to use. They don't kink up. Seriously!
The durable outer lining protects from rips! The double-layered construction makes the Top Brass great for daily, heavy-duty use! Top Brass also comes with strong brass connector protectors that give you a watertight seal every time – no more leaks! The outer Solar Stripe Shield protects from damaging UV rays and extends the life of your hose. Black. Available in 25 ft, 50 ft, 75 ft, 100 ft.
BulbHead has so many products to offer, you really should check them out. Find some great gifts for Mom and Dad for Mother's Day and Father's Day. While you're there, pick out some goodies for yourself!
Connect with BulbHead: Shop | Facebook | Twitter
Connect with Pocket Hose Top Brass II: Shop
Connect with Woof Waser 360: Shop
Disclaimer:
This product was received from the Company for review purposes only. All thoughts and words in this post is my own and I was not paid to endorse it. I am only voicing my opinion about this product.