Go Gaga For A Sew Cute Movie Adventure Based On The
New Lalaloopsy Babies Doll Line
Available On DVD, Digital HD And Video On Demand October 14
From Lionsgate Home Entertainment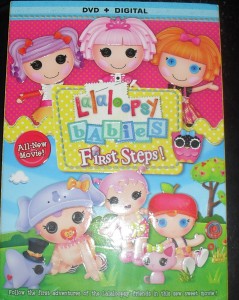 The sew cute Lalaloopsy characters reminisce about being babies, and how they met in this adventure filled DVD. They find their pets, for the first time, as well.
My son sat and watched this DVD from beginning to end, and he's only 3. He really enjoyed watching the characters as babies. Even my 17 year old daughter watched it, and really enjoyed it. I watched with them, as well. Since Jacob started watching Lalaloopsy, I've watched with him. It's always super cute!
Peanuts, Mittens & Blossom are wonderful in this movie.
________________________________________________________
Before they were Lalaloopsy, they were Lalaloopsy Babies! Experience the magical beginnings of the beloved friends when Lalaloopsy Babies: First Steps! arrives on DVD, Digital HD and Video on Demand October 14 from Lionsgate Home Entertainment. Based on the soft line of the hugely popular Lalaloopsy dolls, the fourth movie in the top-selling franchise explores the adorable beginnings of the "sew" cute cast of Lalaloopsy characters.
Join the Lalaloopsy friends for this sweet movie about their first adventures together! After they discover an old scrapbook filled with photos and mementos from when they were babies, the friends reminisce about their nursery days where they found their special bond and first met their adorable pets. They realize how those early adventures helped to shape their personalities, and reminisce about becoming stitched together, friends forever in this delightful, fun-filled movie that Lalaloopsy fans will treasure!
Featured on "The Talk" host Julie Chen's top toy list, the Lalaloopsy collection continues to be one of the fastest selling toy brands. The Lalaloopsy Babies: First Steps! DVD features bonus material including two Lalaloopsy Mini Adventures and a Pet n' Seek! Interactive Maze, and will be available for the suggested retail price of $14.98.
Also now available in stores is the latest in the Lalaloopsy Babies doll line — Lalaloopsy Babies Diaper Surprise. Lalaloopsy Babies Diaper Surprise dolls are available at retailers nationwide for a suggested retail price of $29.99.
DVD SPECIAL FEATURES*
Lalaloopsy Mini Adventures
Lalaloopsy Babies: Pet n' Seek! Interactive Maze
___________________________________________________
You can purchase the awesome dolls on Amazon. Pillow Featherbed Doll, Mittens Fluff n Stuff, Diaper Surprise Blossom, and Diaper surprise Peanut.
You also have the chance to win a copy of this DVD and the Dolls featured in it.