For the first time ever, in Women's Soccer, the National Game will be played on artificial turf. Abby Wambach & Scotts Miracle Gro are trying to change this.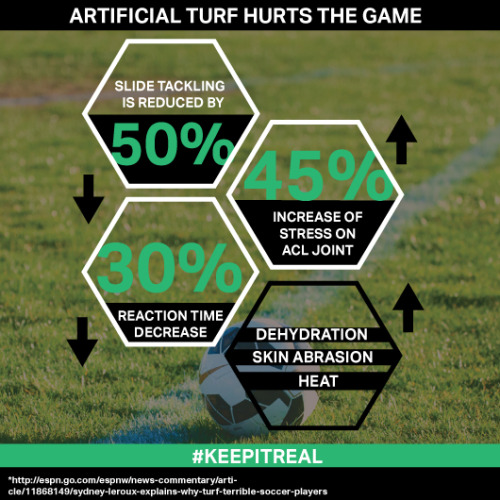 You can go to twitter and tweet #KeepItReal with Scotts Mircle Gro, and they will know you are trying to help. Also for every so many tweets they get, they are redoing some kids' fields across the country. This is your opportunity to help out.
The infographic, above, gives you some helpful information about the artificial turf, and problems it may cause.
#keepitreal is a great campaign that I am personally behind. My daughter played soccer in high school, and it was a real turf field. That's what professionals, as well as, students need. Not the artificial turf that you are seeing more and more of every day. It's getting ridiculous.
Please take a minute out of your day to tweet: 100% of World Cup Games have been played on real grass – until now. I support @AbbyWambach + @ScottsLawnCare #KeepItReal AD
It will help get the point across, and maybe the game will then be played on real turf.
My daughter says she couldn't imagine having to play on artificial turf, and if she had to, she would've quit the team. It's a drag to not play on the real stuff, she said.
100% of all World Cup Games have been played on real grass – until now. That's why, Abby Wambach and ScottsMiracle-Gro teamed up to launch a campaign called Keep It Real leading up to the 2015 Women's World Cup which will be played on artificial turf for the first time ever. Check out what they are saying http://keepitreal.scotts.com/
Scott's, a market leader in lawn and garden products, is asking for support to ensure not only the safety of the players but also the sanctity of the game. In addition, the more fans that share the #KeepItReal message on Twitter, the more youth fields Scott's will refurbish across the country.
Connect with Scotts Miracle Gro & Abby Wambach: #KeepItReal website | #keepitreal on facebook | Twitter with #keepitreal
Disclaimer:
This product was received from the Company for review purposes only. All thoughts and words in this post is my own and I was not paid to endorse it. I am only voicing my opinion about this product.