I have dogs. Two of them. One of them is my good boy. One of them is my dopey fool.
My good boy is neat and tidy when he eats and drinks. He sleeps in his bed in our bedroom without jumping on our bed (well, mostly). He sits on command and lays down when we tell him to.
My dopey fool is a slobbery mess. We have to follow him with a towel after he drinks or our floor would be awash in slobber. He has to sleep in his pen at night because otherwise he would be lying on our heads in bed. He doesn't obey sit or stay. And mostly, he is stinky.
I don't know what it is, but he is stinky. Stinky in the morning. Stinky in the evening. Raining or dry, he is stinky. I've tried a lot of different things, but frankly I've given up hope on making him not stinky.
So I've turned to the next phase, removing his stinkiness from the environment. We vacuum on a regular basis, try to keep him off the couch and in his doggy bed (and wash that on a regular basis), wash his blankets and now we have an air purifier to remove the stinky dog smell from our house.
That air purifier is the Honeywell QuietClean Tower and it is amazing. It has washable filters so it doesn't cost me an arm and a leg to replace. I just pop them out, wash them off and put them back in. It's super quiet so I can use it in the living room while we are watching TV. It has a carrying handle so I can take it in to the study where his pen is at night, so that room doesn't become stinky too. And best of all, it circulates air in the room up to 5 times an hour. So my stinky slobbery fool is…well, he's still a stinky slobbery fool, but at least my house isn't a stinky house any more.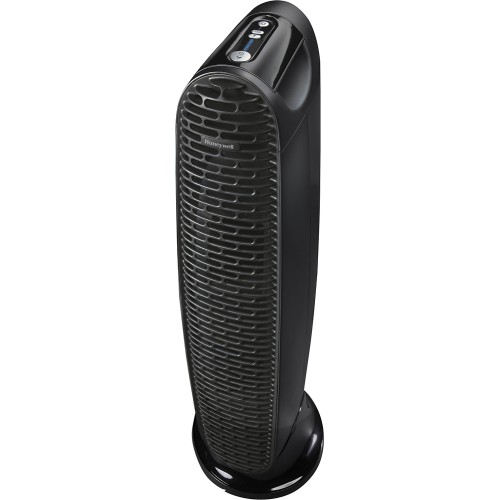 Product Features
Traps up to 99% of ultrafine pollutants and allergens, including pollen, dust, and dander, and removes odors and VOCs for refreshing air
Up to 170 sq. ft. purification capacity
Electronic push button controls
3 cleaning levels
Permanent, washable filters
Selectable oscillation
Quiet operation
Connect with Honeywell: Shop | Facebook | Twitter
Disclaimer: This product was received from the Company for review purposes only. All thoughts and words in this post are my own and I was not paid to endorse it. I am only voicing my opinion of this product.