We all have things we like about ourselves. For me, my greatest gift is my hair! I honestly love it! It is thick and dark and it's all mine! I know that's sounds strange buts it's true, I have been lucky enough to have nice hair all my life. Pssttt, I have a secret … GREAT HAIR DOESN'T COME EASY!!! It always takes work. I don't wake up with perfect hair, and if I do it's because I didn't wash it the night before. Let's be honest we have all had a day or two of perfect unwashed hair.
So in between washes, or when I am getting ready to process my hair or flat iron it, my lovely locks need some TLC. Drybar has an amazing box full of goodies that have helped me cover all of my needs. Even cooler, this box of amazing is specially curated by the founder of Drybar, Alli Webb. How cool is that?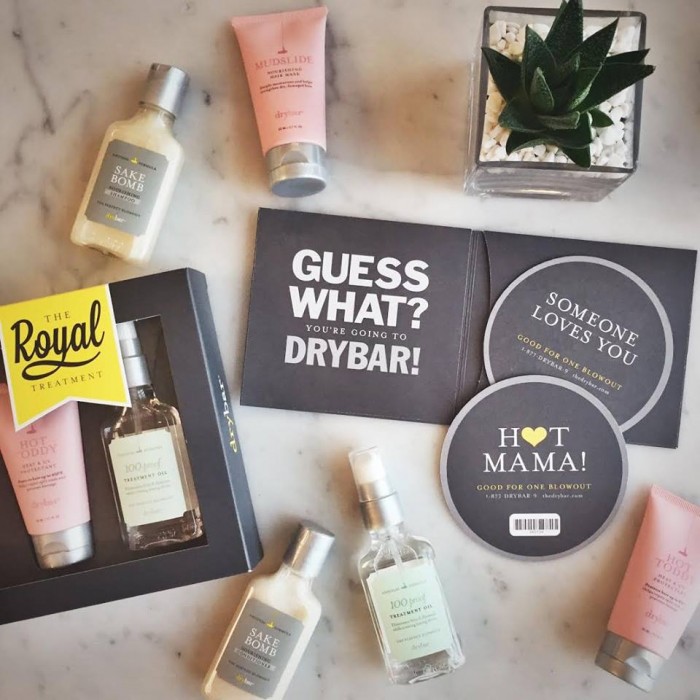 My box of amazing, also known as The Royal Treatment, includes a Mini Sake Bomb Nourishing Shampoo, Mini Sake Bomb Nourishing Conditioner, Mini Mudslide Nourishing Hair Mask, Mini Hot Toddy Heat & UV Protectant, and Mini 100 Proof Treatment Oil.
My favorite is the glorious hair mask! Let's just say your hair will sing hymns of your praise because it will be so happy with you. OR, are you about to flat iron your locks but want some heat protection? No sweat! That comes in an amazing little bottle too! Hmmm it's starting to get warmer out, that means more humidity, so how to stop those frizzies and fly-aways, easy they have a great serum to smooth you all out. I wonder if that works on tummies too. I digress! Even if you are just in the market for a great new shampoo and conditioner then the Shake Bomb Nourishing set is just what you need!
The Royal Treatment a.k.a. The Ultimate Nourishing Kit makes the perfect gift so you can share the love with the other ladies in your life. I'm thinking my mom, sister, best friend, a stranger on the street. Okay, okay, maybe not a stranger but you get the idea! Cheers to you, Drybar, and your amazing hair!
Connect with Drybar: Shop | Facebook | Twitter
Disclaimer: This product was received from the Company for review purposes only. All thoughts and words in this post are my own and I was not paid to endorse it. I am only voicing my opinion of this product.